When you think of celebrity workouts, it's hard not to picture Chris Pratt abs engaged in pool-side planks or Michelle Obama arms banging out push-ups at a weekend boot camp. But, in reality, every one of us can kill those HIIT sessions and 30-minute barre classes with equipment we can't pronounce. We've got it in us. And now, we can work out like Hollywood stars with celeb trainer Simone De La Rue's new Body by Simone (BBS) app — it stays true to her high-intensity, dance-based Body by Simone method that she's known for.
De La Rue, whose Body by Simone studios are located in NYC and L.A., has trained celebs like Reese Witherspoon, Sandra Bullock and Jennifer Garner.
"It is a celebrity's job to look a certain way for a film. They are paid to train for a specific role, so they have a goal to work towards and a tight deadline to achieve the results," De La Rue told Metro in a statement. "Training non-celebs, sometimes the intensity is not as great, as the extreme pressure is not present. At the end of the day though, exercise is exercise and it comes down to the person and how motivated they are."
Launched yesterday, BBS is powered by artificial intelligence to give you customizable and personalized workouts as well as a nutrition program suited to your preferences and fitness goals. With the premium monthly subscription — $19.99 — you also have access to live classes with De La Rue and hundreds of plant- and protein-based recipes created by nutritionist Kelly LeVeque.
LeVeque told Well + Good that the food found on BBS is meant to "increase energy, decrease cravings, and help each user hit their body composition goals. Meals are interchangeable and favorites can be saved so the user is really building their own healthy lifestyle."
Meanwhile, the workouts will "help build strength and endurance, and burn calories," De La Rue told the site. "You'll learn to eat well, work out at your full potential and have fun whilst doing it."
BBS is different from other workout apps because of its dual nutrition and exercise components, the celeb trainer told Metro. "It's your one stop shop for all your fitness needs."
Metro tries out BBS
Choosing 10-minute workouts by muscle group on the BBS app is free (but getting access to anything longer than 10 minutes as well as more personalized workouts, the nutrition program and live classes, requires the premium $19.99/per month subscription). So, that's what I went for — a zero-cost workout to get a sneak peek.
Here's what I was prompted with when I tried using some of the premium features: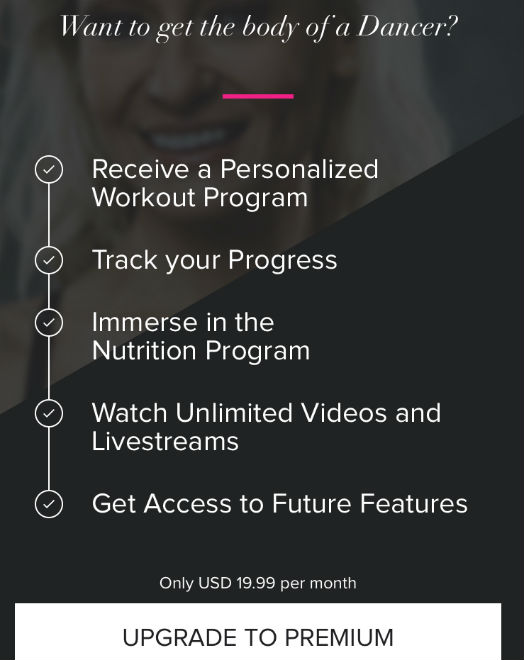 Once I downloaded the app (it's free unless you upgrade), I was directed to answer questions on whether I wanted to get toned or trimmed (I chose toned) and what nutrition style I had (plant-based, protein-based or both, to which I chose "both"). It also had me select whether I wanted HIIT cardio or dance cardio and the days of the week I work out. I was then greeted with a suggestion: based on my answers, "Simone recommends" I work out five to six times weekly. (Thanks, Simone!)
Since I get to the gym, on average, four times per week where I usually hit the weights and log half-hour sessions on the elliptical or bike (and the treadmill if I'm feeling particularly inspired), I picked the "advanced" option. 
Once I was officially in the BBS app, I wasn't able to unlock full recipes without subscribing to premium, which is a shame because the Shrimp Spring Rolls looked amazing.
After drolling over the recipe previews, I tried out the 10-minute ab and arm workouts. Both had the same full body warm-up — including lunges, punches and pliés — and cool down stretches. Both followed eight counts, which I liked because there were fewer reps for more sets.
The core workout focused on using your body weight, but it was challenging (never underestimate the power of some good ol' body weight exercises). De La Rue added in small variations to ordinary moves that ultimately made them more difficult (take, for instance, the extra pulse she added to bicycles). I also really liked that she saved extra time between each exercise to roll out your neck and release all that pressure that tends to build up.
The arm workout focused on biceps and triceps. I have to admit, instead of starting with the suggested 3 lb dumbbells, I started with 8 lbs ("3 lbs is beneath me," I thought. Boy was I wrong). Lesson learned: when Simone says to use 3 lb dumbbells, you use 3 lb dumbbells. 
The last exercises in the arm workout used a CLX band from the Body by Simone website, which I didn't have, so I improvised with a regular resistance band I found in my basement/home gym. 
Getting this glimpse into the app definitely made me want to upgrade to premium. I'd say paying the monthly fee is 100 percent worth it if you're into following a wide range of muscle-burning workouts from an instructor who's motivational and, well, majorly fit. (Plus, I'm still thinking about those Shrimp Spring Rolls.)  
It's simple: there's no BS about BBS.