Tituss Burgess has opened up about shooting the final season of Unbreakable Kimmy Schmidt, admitting that it was emotional, but not in the sense you would think. 
"It was interesting," says Burgess, who has played Titus Andromedon in every episode of Unbreakable Kimmy Schmidt and earned four consecutive Best Supporting Actor Emmys for doing so. 
"It wasn't in the emotional sense you would think. It was very emotional don't get me wrong. But the way it was spread out, we wrapped almost a year ago. And so, to sort of continue on, I guess the rest of the world is sort of now experiencing its own sort of mourning."
Tituss Burgess on the end of Unbreakable Kimmy Schmidt
The success of Kimmy Schmidt, and Burgess's work in the show, meant that the actor was extremely busy shooting Rudy Ray Moore biopic Dolemite Is My Name with Eddie Murphy while production on the comedy was coming to an end. So he was just too exhausted to be overwhelmed by it. 
"While we were filming I was flying back and forth to LA to shoot Dolemite Is My Name with Eddie Murphy. I didn't have an opportunity to have the, how do I phrase it, to have the time to process. It was all happening so fast."
Burgess is clearly a little disappointed that he didn't get the proper chance to grieve the end of Unbreakable Kimmy Schmidt. 
"I didn't have the opportunity that I wish I had had. To really go through my mourning phase. But what I walked away with though was the memories that it was such a beautiful, beautiful experience."
"I will never be that lucky again to have a team of writers catered to my strengths in such a way that it was such an effortless fit, and the cast, I mean look, they're first rate, it doesn't get much better than Carol Kane, Jane Krakowski, my sister, Ellie Kemper."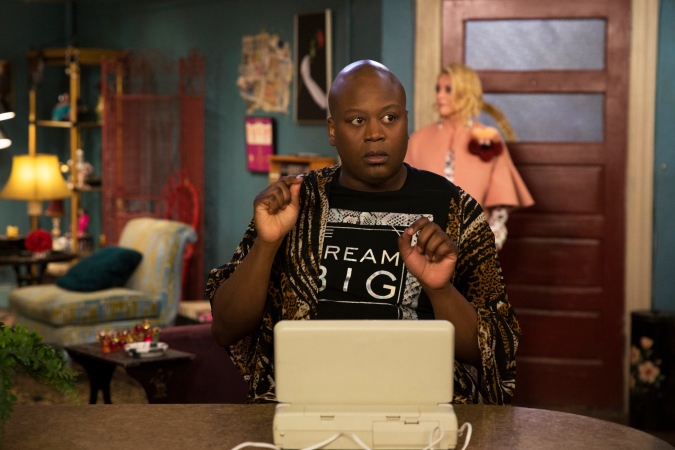 But even though Unbreakable Kimmy Schmidt is now over, Burgess knows that the friendships he made, as well as the acclaimed episodes the cast and crew created, will live on forever.
"I knew Jane outside the show, I didn't know Ellie and Carol but now there's such a strong bond, and because of the nature of streaming services, we'll live on forever and ever until they yank us off the waves."
Burgess is also just as eager for news on the long rumored movie of Unbreakable Kimmy Schmidt, which would appease fans just that little bit longer.
In the meantime, though, the final episodes of Unbreakable Kimmy Schmidt hit Netflix on January 25.