Maybe you've been following the story for a couple days now. Maybe you just heard about it in passing. Either way, you're probably wondering, did the government shut down?
With the expiration of the current short-term spending bill, which keeps the government open and operating, looming on Capitol Hill, the Democrats and Republicans still seemed at an impasse. Even as the clock to government shutdown ticked down into the single digits of hours remaining, the two parties seemed incapable of coming to some agreement.
Several issues seemed to stymy the potential for compromise: children's health care and DACA. Democrats have been pushing for the bill to include some deportation protections for Dreamers, or the children brought to the country illegally and covered by the Deferred Action for Childhood Arrivals (DACA). President Trump rescinded it.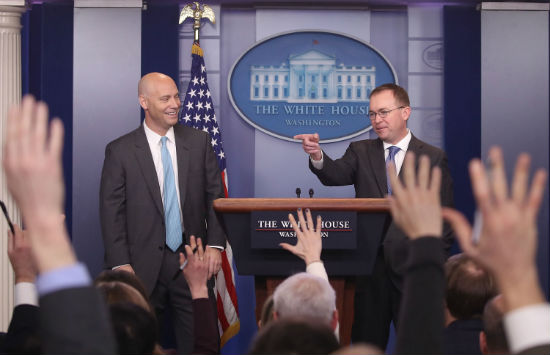 Now CHIP (Children's Health Insurance Program) seems to be on the line, too. The federal funds for the program expired in September and a permanent solution has yet to be passed. But Trump doesn't want it to be part of the current talks, tweeting just a day before the deadline that CHIP "should be part of a long term solution, not a 30 Day, or short term, extension."
CHIP should be part of a long term solution, not a 30 Day, or short term, extension!

— Donald J. Trump (@realDonaldTrump) January 18, 2018
But here's why so many people are asking did the government shut down: Republicans already agreed to include a CHIP extension in the bill as a sweetener to Democrats. By midday Thursday, a government shutdown looked increasingly likely.
Trump himself underscores more than anything how a government shutdown could hurt the military. Is that true? We have a break down of what happens during a government shutdown so you can understand what closes, what stays open and who is really going to be affected.
So, did the government shut down?
Shortly after 11:00 p.m. EST, the vote on the funding bill failed in the Senate. Although the Democrats and Republicans have until midnight to pass a funding bill, a failed vote this late all but ensures a government shutdown. Keep checking back with Metro US. We'll update you with more information as soon as we find out what's happening, whether the two political parties are able to avoid the shutdown or whether the government is forced to cease unessential operations.
As of this article's update at 12:06 a.m. Saturday, January 20, no bill had passed through the Senate. The government shutdown won't officially happen even if the Senate fails to pass a spending bill until Mick Mulvaney issues a memo. That means if the Senate is close to passing a bill he could choose to push the deadline back slightly beyond midnight.