It's a big day for Shonda Rhimes, as How to Get Away with Murder season 4 episode 1 and the season premiere of Grey's both air tonight. Lucky you, if you're a fan of both!
"Annalise is definitely on a redemption tour to pick herself up," executive producer Pete Nowalk shared of the show's new season. He divulged that Annalise Keating (Viola Davis) and her students will be reevaluating their lives in the wake of Wes' death. This, he shares, will lead the disgraced professor to make a decision in How to Get Away with Murder season 4 episode 1 that will affect literally everyone. As if you weren't already excited for the season premiere.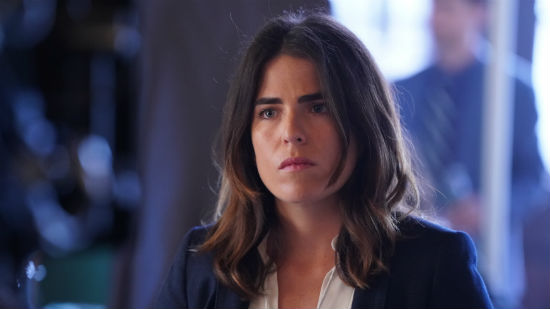 But you might want to keep your eyes locked on Laurel (Karla Souza) from the get go. She'll be deciding whether or not to keep her unborn baby with Wes, and we're guessing it won't take her long to start suspecting her own father in his death. It's more than an agonizing decision, though, and you can bet something's going to come from it on the crime drama. "Guilt will definitely be the first emotion, but she's also such a doer that she would want to get revenge," Nowalk hints to EW.
In fact, the question of whether or not Laurel knows that Jorge ordered Wes to be killed is central to a lot of what comes later in the new season. "We're going to find out an answer to that soon, and it's going to set us off on this crash course that's going to lead to our midseason question/flash-forward, which is bonkers," Nowalk explained to EW. Translation: This season's going to hook you quickly, and the drama won't let you go until the season's over — well, except it will of course end on a cliff-hanger.
What time does How to Get Away with Murder season 4 episode 1 start?
You can catch the thrilling beginning of this newest season when How to Get Away with Murder season 4 episode 1 airs tonight on ABC at 10 p.m. EST after the two-hour season premiere of Grey's Anatomy. Translation: Set your TV to ABC starting at 8 p.m. EST, and go ahead and leave it there for the next three hours. Rhimes fans surely won't be disappointed.