Well, this might get a little awkward. After a very public and very messy removal of the show's lead actor Kevin Spacey due to his long history of sexual misconduct, Netflix's first real bonafide bingeworthy hit House Of Cards had to do some serious reshuffling. The David Fincher-produced moody thriller was forced to catapult Robin Wright's character to the top of the political pyramid as President of the United States for one last season of capital hill backstabbing. This came as a relief for many fans, who were concerned that the show would be ending its reign after Spacey's departure. But those of us who have been blowing off their busy schedules everytime a new season premieres since it debuted in 2013, know Wright's character Claire Underwood really holds the power. But with the impending release of season 6, fans are wondering: when does House of Cards return? 
House of Cards final season cast
Since we know that Kevin Spacey will not be reprising his role as Frank Underwood one last time, who else will be joining Robin Wright in the House of Cards final season? The season 6 will also star a pretty powerhouse ensemble with Diane Lane, Greg Kinnear, Cody Fern, Michael Kelly, Jayne Atkinson, Patricia Clarkson, Constance Zimmer, Derek Cecil, Campbell Scott and Boris McGiver. 
When does House of Cards return? 
According to this recently released badass looking promo photo, the House of Cards final season will be available for your streaming pleasure on Tuesday, November 2. From what we can tell from the photo, President Underwood means business.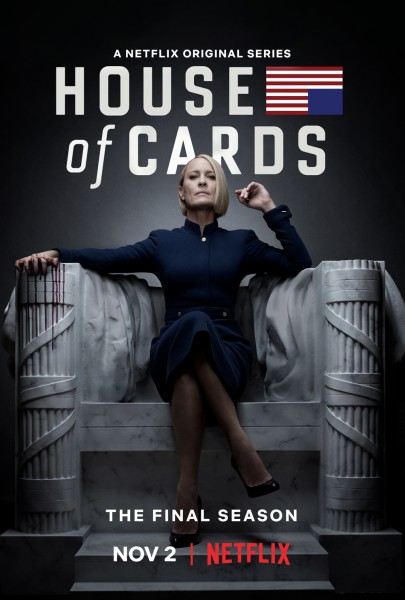 [Photo Credit: Netflix]
House of Cards final season trailer
An official teaser trailer for House of Cards season 6 has been released with Claire Underwood breaking the fourth wall — much like her husband, Frank — to tell the viewers "we're just getting started". Watch the House of Cards final season trailer below.