New York City's biggest public art project ever, Good Fences Make Good Neighbors, has revealed the locations of more than 300 works of art to be spread across all five boroughs this fall.
Inspired by the ongoing crisis of global displacement because of instability created by war and climate change, Chinese dissident artist Ai Weiwei will bring artistic interpretations of fences, gates and immigrant history to the city where the Statue of Liberty still holds a welcoming torch in the harbor beginning Oct. 12 through Feb. 11, 2018.
"The exhibition will transform the security fence into a powerful social and artistic symbol with interventions across the city," according to a statement by the Public Art Fund.
With a project of such scale, the nonprofit group that's been commissioning and installing art on city streets for 40 years is seeking $80,000 through Kickstarter to bring the project fully to life.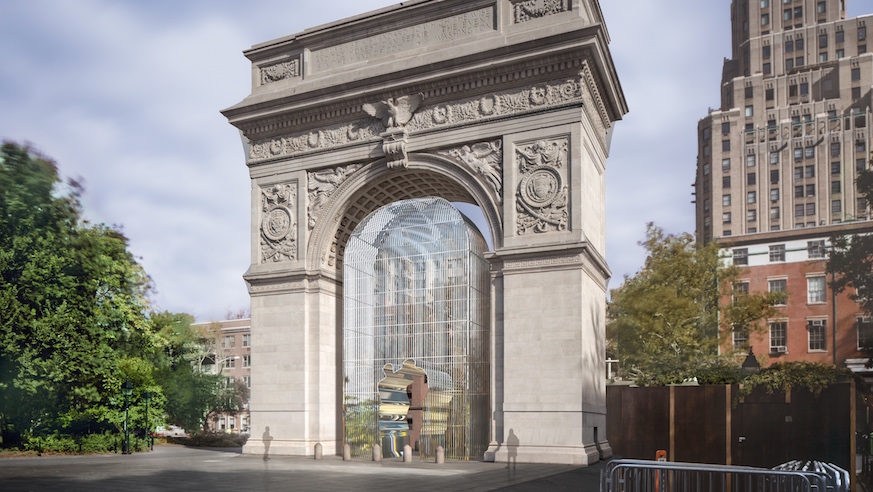 A political refugee from China himself for his art and human rights activism, Ai will use various materials like metal chain links and synthetic netting to create his fences at locations significant to New York City's immigrant communities past and present, as well as public spaces where New Yorkers gather to protest and celebrate.
The largest sculptures will be installed at three key sites around the city:
Doris C. Freedman Plaza, Central Park: The southeast entrance of Central Park will host a golden cage-like sculpture that you'll be able to walk into. "While retaining references often associated with structures of division, like bars and turnstyles, the installation will be juxtaposed against one of the most visited urban public parks in the U.S."
Washington Square Park: A hub of both recreation and political action, the park also traces its roots back to farmland for Native Americans and later housed a freed slave community. Weiwei will install a 50-foot-tall cage within the Washington Square Arch with a "polished mirror passageway in the form of two united human silhouettes" that both block the arch and offer their own way through.
Flushing Meadows Corona Park, Queens: It's fitting that the park where two World's Fairs took place (1939 and 1964) is surrounded by the city's most diverse neighborhoods. Here, Weiwei will wrap the iconic steel representation of the globe in mesh netting to "emphasize the Unisphere's form and symbolic meaning."
Weiwei will also create smaller "interventions" on top of and between private buildings. At 48 E. Seventh St., where Ai lived in a basement apartment as a student in the 1980s, he will create a work between two buildings. Two rooftop installations at 189 Chrystie St. and 248 Bowery will make use of those buildings' unused spaces, while the Cooper Union for the Advancement of Science and Art at Astor Place will be partially wrapped in fencing along its north facade.
The bulk of Ai's works will focus on the city's infrastructure, to highlight the role immigrants played in building it and the freedom of movement that millions enjoy daily.
Instead of fencing, Ai will help keep the city moving by installing additional seats at 10 bus shelters in Downtown Brooklyn and Harlem. Portraits of immigrants from various time periods will be displayed on 200 lamppost banners. And more than 100 bus shelters, newsstands and Link NYC kiosks will display images taken by Ai, a frequent visitor to refugee camps around the world, paired with poetry and captions about forced migration.
"Each of the works will grow out of the existing urban infrastructure, using the fabric of the city as its base and drawing attention to the role of the fence in dividing people," the Public Art Fund explains in a statement. "In doing so, the artist highlights how this form, ubiquitous yet also potent, can alter how we perceive and relate to our environment."
Ai's interest in the immigrant experience comes from growing up amid China's Cultural Revolution, during which his family was exiled because of his father's work as a poet. He also spent time in New York as a student in the 1980s, then returned to China and became a political artist in his own right and was eventually arrested by the government. 
"When I left New York in the '80s as a student, I had nothing — I could have never dreamed of this project," according to Ai on the project's Kickstarter page. "All these years later, the show is like a love letter to the city and its people."