The ongoing health saga of Yoenis Cespedes took another bad turn on Wednesday when MLB.com's Anthony DiComo reported that the New York Mets slugger will be undergoing two surgeries on both of his heels.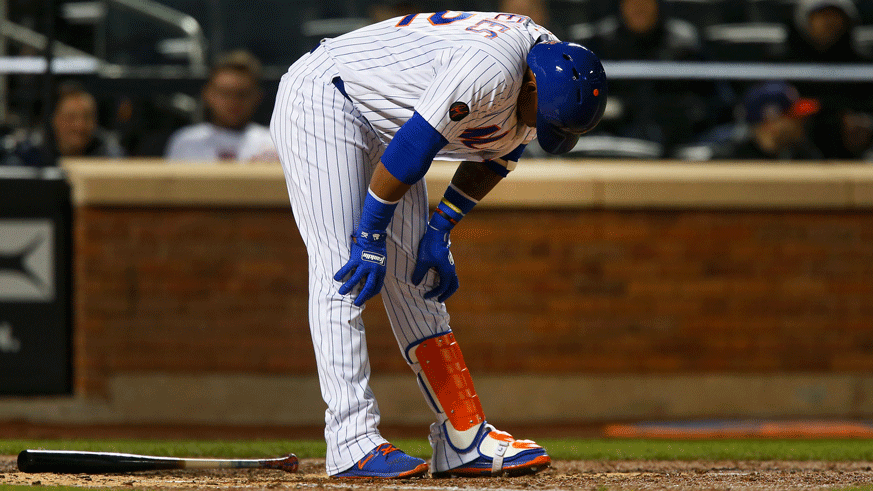 Cespedes is expected to miss at least 8-to-10 months, which would schedule an earliest possible return for spring training. In all likelihood, he will miss the first few months of the 2019 regular season. 
DiComo noted that Cespedes will undergo one surgery and partially recover before undergoing the second. 
The 32-year-old, who is now in the third season of his four-year contract, has played in just 38 games this year and a combined 119 over the past two. Cespedes has continuously battled leg issues, mostly his quadriceps and hamstrings, but missed a large portion of time this season due to a strained hip flexor that had forced him out since May 13. 
Where did the Yoenis Cespedes heel issue come from?
He returned for a single game on Jul. 20 against the crosstown-rival Yankees, going 2-for-4 with a solo home run but revealed shortly that he has had a long-standing issue of calcified heels that could have attributed to some of his health issues since joining the Mets in 2015. 
It was no secret as the Mets knew about the problem even when they traded for him during the stretch run of 2015 and while negotiating what would become a four-year, $110 million deal during that offseason. 
Cespedes' absence is just the cherry on top of the putrid sundae that has become the Mets' 2018 season. Already out of contention before the league's Jul. 31 trade deadline, this is a team of sellers that is facing the very real possibility of another rebuild. 
That would include possibly trading away ace pitchers Jacob deGrom and Noah Syndergaard along with veteran second baseman Asdrubal Cabrera. 
As the team's biggest offensive threat, Cespedes' absence has played a large part in another nightmarish summer. In those 38 games this year, he was batting .262 after a slow start with nine home runs and 29 RBI.