Judge a Bob's Burgers cookoff, step inside Harry Potter's pensieve, watch the premiere of Doctor Who with the cast and more — here's our guide to the essential panels and experiences at NYCC 2018. 
10 things you must do at NYCC 2018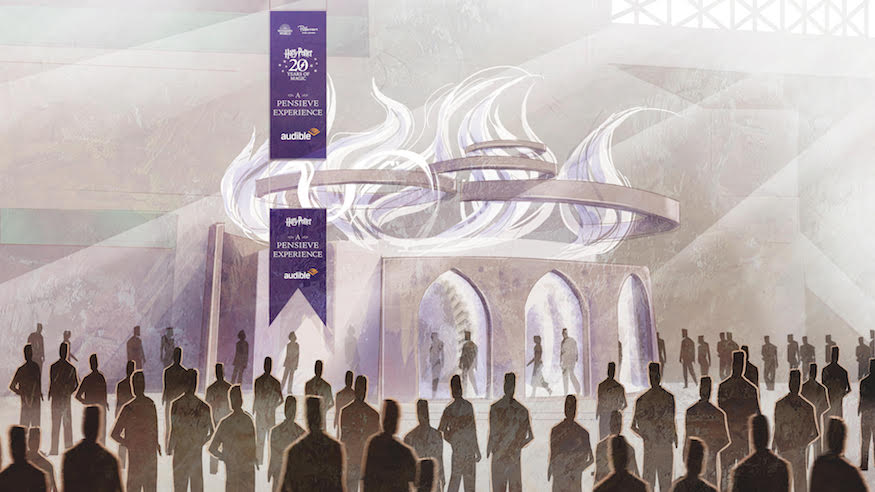 Audible has created a 10-minute immersive experience that takes you inside a Pensieve from Harry Potter.
Meet a real Harry Potter
Yes, everyone who has seen Harry Potter and the Cursed Child knows to #KeepTheSecrets, but maybe someone will cast a charm powerful enough to tease out a few behind-the-scenes details when all seven original main cast members — including not-so-boy wizard Jamie Parker as Harry Potter — take to the NYCC 2018 stage. Oct. 4, 11 a.m., Javits Room 1A06
It's Bob vs. Louise
When the youngest Belcher decides she can flip burgers with the best of 'em — that would be her dad, Bob — it's time for a Belcher Burger Cook-Off. Chef Alvin Cailan created two specialty burgers using Sir Kensington's condiments, served from two competing food carts in front of the Javits Center. Each burger is $8, or $10.50 with fries, and you choose the winner. 36th Street and 11th Avenue
Join the Leap Year Society
Reflector Entertainment's new occult series Unknown 9 is an ambitious way to tell stories, involving fans at every step of the way. To build excitement, they're inviting NYCC attendees to try out for the mysterious Leap Year Society during a two-day immersive experience at the McKittrick Hotel. Friday and Saturday, meet at the corner of 11th Ave. and W. 27th St., free with RSVP
How Marvel makes comics
The editors of Mighty Marvel and some special guests will reveal the process of Making Comics The Marvel Way. They'll cover every aspect of production from how the stories are crafted, penciling, inking, coloring, lettering, editing and more. Thursday, 12:15 p.m., Javits Room 1A24
Meet the Boys
Supernatural creator Erik Kripke has a new series that reimagines superheroes in the role of the bad guys. The Boys, coming to Amazon in 2019, is a group of vigilantes — among them Karl Urban, Karen Fukuhara and Chace Crawford — working to take them down. You'll be getting the first look at the show with the full cast. Friday, Oct. 5, 3 p.m., Hammerstein Ballroom
Let your fan flag fly
Party with the most colorful crowd at Super Queeroes, NYCC 2018's official LGBT+ afterparty on Friday night. Featuring DJ Mike Cruz and hosted by Shirley U. Jest and Matthew Levine of LGBT HQ, the night will feature drag and burlesque shows, a cosplay contest with over $1,000 in prizes, "gaymes," raffles and surprise guests. Tickets are $10 online or $8 at the LGBT HQ Booth #1483. Friday, Oct. 5, 9 p.m.-4 a.m., must be 21+, 80 Grove St.
Got a 'good' feeling about this
One of the most anticipated book-to-screen adaptations in the works is the teaming up of a demon and an angel to stop the apocalypse in Good Omens. Author Neil Gaiman will join stars David Tennant and Michael Sheen to dish on the upcoming Amazon Prime series. Saturday, Oct. 6 10 a.m., Hulu Theater at Madison Square Garden
The people who make real movie magic
The closest it comes to real heroes onscreen are the stuntmen and women trained to take the risks actors can't. See just what it takes to choreograph a fight scene, do insane things in a car and all while probably wearing a wig at Fights, Camera, Action! This behind-the-scenes look organized by NYCC 2018 newcomer the Motion Picture Association of America and is part of the new series Studio @ NYCC. Saturday, Oct. 6, 5:30 p.m., Shop Studios, Level 3, free with NYCC badge
Meet the new Doctor on premiere day
BBC America is airing the first episode of Doctor Who's 11th season, featuring the debut of Jodie Whittaker as the 14th Doctor, nationwide at 1:45 p.m. to coincide with its U.K. premiere.  But the fans at NYCC 2018 will get a special treat: a Q&A with Whittaker, showrunner Chris Chibnall and executive producer Matt Strevens right after the episode concludes. Sunday, Oct. 7, 1:45 p.m., Hulu Theater at Madison Square Garden
Look into Harry Potter's Pensieve
Swing by the Audible booth for the Harry Potter Pensive Experience, an interactive experience created with Pottermore Publishing. Like the magical device that lets wizards relive their memories, the 10-minute multi-sensory event lets you follow a character from the books through some of their most memorable moments, complete with lighting and visual effects to make you feel like you're actually inside a pensieve. Oct. 4-7, Javits Booth NC5