You'll be talking about the trials and tribulations of Black Friday once stores close their doors to assess the damage (and pull sales associates from the rubble). But, you'll need something to fuel you while you shop. Black Friday food deals exist, and they'll keep you on track and focused until closing time.
You can't blame the madness on Mercury Retrograde, but you can thank a number of restaurants for discounts and freebies during this year's Black Friday event.
Not all major nationwide chains are launching promos. A Chipotle spokesperson, for instance, confirms that though restaurants are open, they aren't offering customers Black Friday food deals.
We have, however, found a few you'll definitely want to check out amid the money-saving frenzy.  
Black Friday 2018: Black Friday food deals to note
Surviving Black Friday can be tough. Aside from using app assistants and mapping out the stores, you'll need to keep your energy up with some good grub.
Here's what we could find for Black Friday food deals this year.
DoorDash Black Friday food deals: Wendy's, Applebee's, etc.
DoorDash is teaming up with popular restaurants for a Black "FryDay" giveaway.
The first 15,000 customers to place a DoorDash order of $5 or more using the code BLACKFRYDAY will receive a single patch of free fries from wherever they've ordered food.
This offer is valid between 6:00 a.m. and 11:59 p.m. PT (that's 9:00 a.m. ET) on November 23 while supplies last.
Participating stores include Wendy's, Wingstop, Jack in the Box, Applebee's, Burger King, Chick-fil-A, Buffalo Wild Wings and Five Guys.
Caribou Coffee
Caribou is reportedly offering a small Coffee of the Day or Cold Press Coffee for just $1 on Black Friday.
Quiznos
This sandwich chain is giving Quiznos ToastyPoints reward members 20 percent off any order when they use the coupon on the restaurant's mobile app this Black Friday.
Just download the app at quiznos.com/toastypoints.
Potbelly
Per Delish, Potbelly Sandwich shop is offering "100 percent off a cookie with any purchase."
Free chocolate chip, anyone?
7-Eleven
7-Eleven posted on social media about its "Bring Your Own Cup" deal this Friday: "Hear ye, Hear ye! Your inanimate objects aren't going to fill themselves with Slurpee! This Black Friday, 11/23, from 11AM-7PM, come on in and fill up your glorious vessels (that are less than 10″ in diameter, watertight and food-safe) to the brim for only $1.49."
So, bring any object that meets the above requirements, and fill it with Slurpee goodness for under a buck-fifty.
Moe's Southwest Grill
This one's for New Yorkers specifically.
To celebrate the "Impossible Homewrecker Burrito," a new plant-based protein menu item, Moe's is giving away these burritos for free at the 6 Ave location between 38th and 39th Street. This offer lasts from 11:00 a.m. to 10:00 p.m. ET, a spokesperson says. There's no purchase necessary.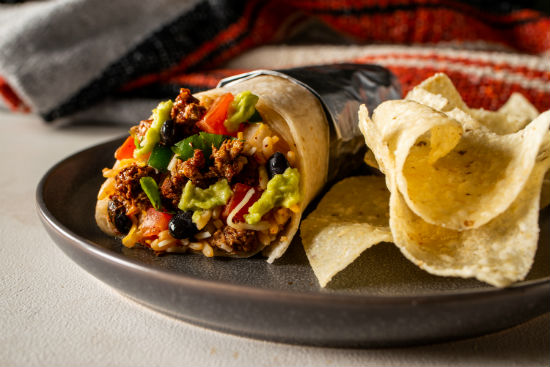 Though they aren't offering any other Black Friday food deals, Southwest Grill restaurants are letting parents eat for free in honor of Cyber Monday Week, the spokesperson says. Just download the Moe's Rockin' Rewards App, purchase a kids' meal at a local retailer, and you'll get an "adult meal" (valued at $8 or less) free of charge.
This deal is nationwide and valid Tuesday, November 27 through Sunday, December 2. Guests will receive a push notification on Monday to redeem this promo on their Moe's app. 
No shopper should fight for the last iPad mini or pair of trendy-again Crocs on an empty stomach. Keep your stamina up this Black Friday with some delicious and affordable eats.