An exciting summer for water parks is just around the corner, and we're tallying up the country's most exciting and thrilling water parks for the 2017 season. From a deep dive down the world's tallest waterslide to 6-foot swells in one of the world's largest wave pools, thrilling splashes for the whole family await at the country's best water parks.
Water Country USA
At the Mid-Atlantic's largest water park with more than 40 water slides, Water Country USA in Williamsburg, Virginia, is a must. Still garnering attention and praise as it enters into its fourth season, the park's Colossal Curl was the first slide of its kind in the country when it was built in 2014. The slide packs two heart-racing elements on its 552-foot long track, starting with a 24-foot Tornado whirlpool before picking up speed into the TornadoWave — where the slide's four-person clover rafts scale the wall, hang weightless, then drop toward a narrow exit.
DelGrossos's Amusement Park
A family-owned and -operated amusement park in central Pennsylvania, DelGrosso's Amusement Park offers amenities like a wave pool and lazy river, while an Italian-themed park adds a bit of flair by way of a Leaning Tower of Pisa water feature. The park, named for a family known for their pasta sauce since 1914, is a standout for its Italian fare, and offers incredible food venues on site.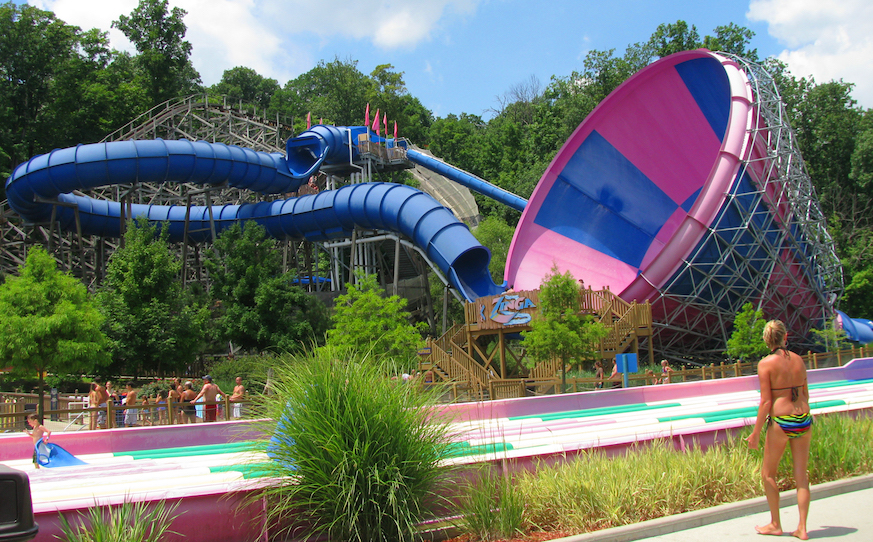 Holiday World & Splashin' Safari
Santa Claus, Indiana's, Holiday World & Splashin' Safari is home to two of the world's longest water coasters, Mammoth and Wildebeest, a feat no other water park in the country can claim. Mammoth stands out for its unique six-person raft that climbs a seven-story hill before racing down a course of seven drops. Wildebeest is a more traditional new-age water coaster, featuring a winding track of underground tunnels and drops that push the four-person dinghy to speeds upwards of 36 feet per second. Continue your adrenaline rush on Zinga, the park's eight-story Tornado slide, where a four-person inner tube scales the curved walls of the purple and blue mega-structure.
Schlitterbahn Waterpark
Most of Schlitterbahn's five water parks are in Texas, but their park in Kansas City has drawn the most attention by far, and for good reason. Verrückt, officially the world's tallest waterslide, reaches 168 feet and 7 inches into the clouds. Unlike anything else in the world, a custom-built raft for four plummets the brave down 15 stories, reaching speeds of over 70 mph. Those who prefer to stay closer to the ground will appreciate the low-key thrills of King Kaw Rapids River, a 3,000-foot downhill float that encounters a few waterfalls and lakes before picking up speed through whitewater rapids.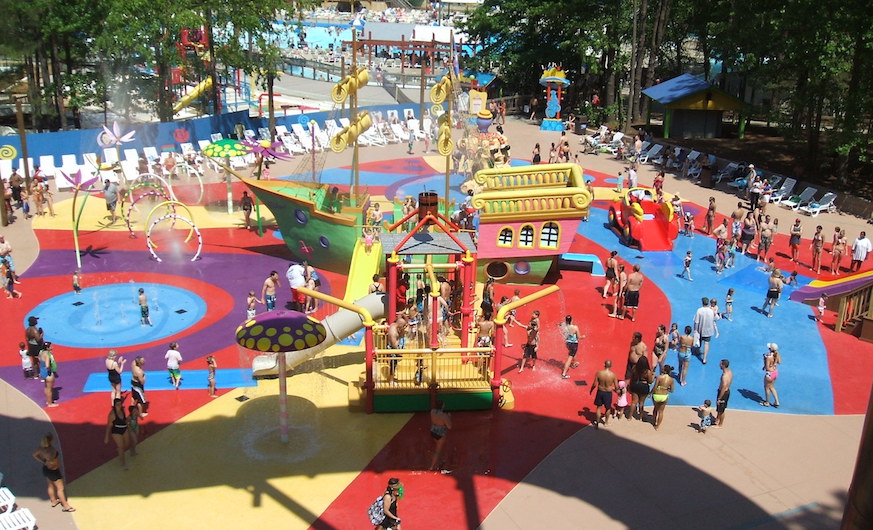 Six Flags White Water
One of the world's largest racing slides, the Wahoo Racer, a six side-by-side lane slide standing nearly 60 feet tall, can be found at Six Flags White Water in Marietta, Georgia. Riders will have the chance to race head-first on water toboggans that curve along a large loop and some gut-wrenching hills before a straightaway to the finish line. Wahoo Racer adds to the impressive lineup at the Six Flags outpost, located about a half an hour north of Six Flags Over Georgia, where it takes at least a day to experience the park's nearly two dozen attractions.
For the rest of the best water parks to visit this summer, like New Jersey's reborn Mountain Creek Waterpark, visit Fodor's.