Noor Sandhu was a 14-year-old tennis player, a private person and probably the only teenager without some form of social media. Yet she was the victim of a stalker.

"A lot of people only think of stalking as only a celebrity being stalked. I think that's the biggest misconception," Sandhu said. "Stalking affects common people — millions of people — before I was stalked I thought it only happened to celebrities."

National Stalking Awareness Month began in January 2004 and organizations like the Stalking Resource Center and Mayor Bill de Blasio's program, Coordinated Approach to Prevent Stalking (CAPS), are working to raise awareness, lower stalking-related homicides and increase public knowledge about stalking.

CAPS began on Staten Island in 2014. The idea was to start small before expanding the program citywide, Commissioner Cecile Noel said. The program recently wrapped up training in Queens and the NYPD will help select the next borough to participate, Noel said.

"CAPS is a training program," Noel added. "We're training all the providers to put on the same set of glasses … and really key into what victims are telling us. They know the behavior; they don't necessarily equate that to something that is called stalking."

For Sandhu, her stalker's behavior ranged from following her, approaching her in a restaurant where she was eating with her grandfather and posting escalating threats on social media.

The former pro-circuit tennis player didn't have her own social media accounts, and still doesn't. Her mom, a single parent and medical doctor, said she didn't think she was around enough to monitor her young teen's internet habits.

Yet, Sandhu's stalker was able to watch and hear the target of his obsession by infecting her home computer with remote viruses.

"I was in shock and I couldn't believe this was happening to me and I was terrified and horrified and scared for my life basically every second of every day," she said.

Sandhu said she didn't know her stalker, but according to CAPS, stalking is often connected to domestic violence and three out of four women and men who are stalked know the perpetrator in some way.

Sandhu is 17 now. She stopped competing in the United States Tennis Association. She never leaves the house alone and her family, who is by nature very private, has ensured security measures are in place to keep Sandhu safe. She is still dealing with her stalker in the North Carolina court system, but she is speaking out and championing an effort to make stalking a minor a felony on the first offense.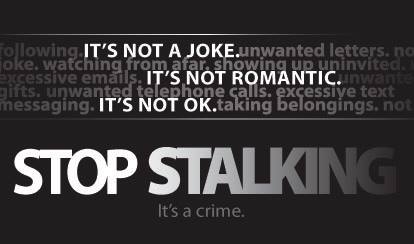 stalkingawarenessmonth.org.

Stalking: Know it. Name it. Stop it. by Metro US on Scribd

New York Domestic Violence and Stalking by Metro US on Scribd