Stormy Daniels. With a net worth of around $2 million, 150+ adult film credits and a defamation case in the works against President Trump and lawyer Michael Cohen, she's brought a storm of headlines to your news feeds lately. So, you're probably wondering a few things: Did she really have an affair with Trump? Who is her husband? Does Stormy Daniels have kids? The list goes on (and probably on).
Trump has denied that the 2006 affair ever happened, but Daniels claims it did. At the end of her March "60 Minutes" interview with Anderson Cooper, she said, "He knows I'm telling the truth."
She does in fact have a husband. His name is Glendon Crain, and they tied the knot in 2010. Crain's stage name is Brendon Miller, and he has also appeared in adult films. Read up on everything to know about him.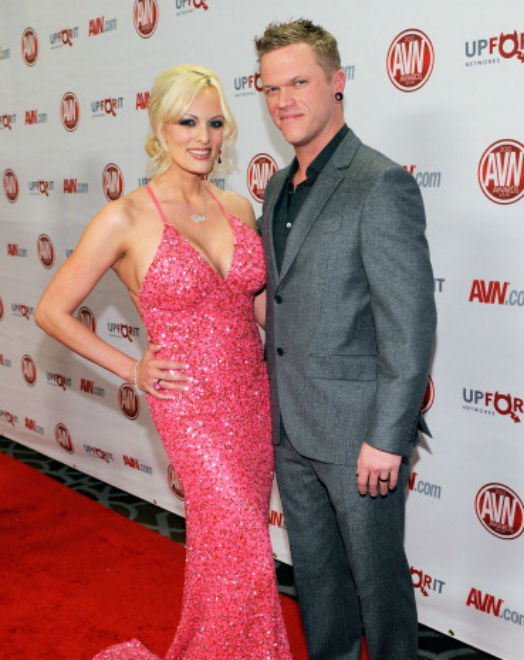 Now on to the next — perhaps most essential — question: Does Stormy Daniels have kids?
Does Stormy Daniels have kids?
Yes: one daughter whom she had with Crain in 2011. That would make the girl around the age of 7 now (you can go to TMZ to see a recent photo of the family in their hometown). They reportedly live in the Dallas suburb of Fortney, Texas.
"We have this smart, amazing, beautiful daughter that is awesome," Daniels told The Daily Beast in 2012. "The three of us go to Gymboree class for music. He [Crain] is great with our daughter because he has no problems doing anything with her that I do. He will take her to the bathroom in a restaurant and change a dirty diaper."
Daniels claims that a man threatened her and her daughter in 2011 (when the girl was an infant) after she'd given the press information about the alleged Trump affair in exchange for money — the article was never published thanks to Cohen, and she was never paid.
A composite sketch of the man was revealed on Tuesday. Some people think it's Tom Brady or Michael C. Hall. Others claim it's her husband. (Twitter, man. Got to love it.) And, as of last night, there's a $131,000 reward for leads that result in a positive identification.
In the meantime, Daniels has said she's trying to handle everything the best she can for her daughter.
Melania Trump's spokesperson released this statement after the March "60 Minutes" interview, referring to Barron Trump:
While I know the media is enjoying speculation & salacious gossip, Id like to remind people there's a minor child who's name should be kept out of news stories when at all possible.

— Stephanie Grisham (@StephGrisham45) March 26, 2018
This, of course, also applies to Daniels' child.
So, Does Stormy Daniels have kids? Yes. Should we respect the daughter's privacy? Double yes.