Family time in this day and age can mean a lot of different things, but it's common to see your uncle Tim showing your aunt Susie all the selfies he's taken behind his boss' back. Or, your cousin demonstrating how Snapchat filters work to an audience of seniors (looking at you, Grandma). If phones aren't tableside, maybe you're talking about some viral video or, perhaps, situated in front of the TV to stream free movies (because no one wants to pay to watch The Grinch).
Here's some game-changing news just in time for Thanksgiving: you can stream entire films on YouTube free of charge. This is great for households that don't have Netflix, Hulu or any other subscription service.
According to AdAge, people were able to stream free movies on YouTube since October. Previously, you had to rent or buy films in order to watch them. Now, though, you can view ad-supported full-length features for free (so, yes, the one caveat is that you'll have to sit through ads).
"We saw this opportunity based on user demand, beyond just offering paid movies. Can we do ad-supported movies, free to the user?" Rohit Dhawan, director of product management at YouTube, told AdAge. "It also presents a nice opportunity for advertisers."
The video platform has over one billion users, so you probably know how to find films on the site, but here's how to navigate this new feature.
How to stream free movies on YouTube
Simply go to YouTube and proceed to the "Movies & Shows" tab on the left-hand side of your screen.
Once there, you'll see popular movies for rent or purchase such as Mean Girls, The Equalizer and Predators. Scroll down to the "Free to watch" section, as seen below: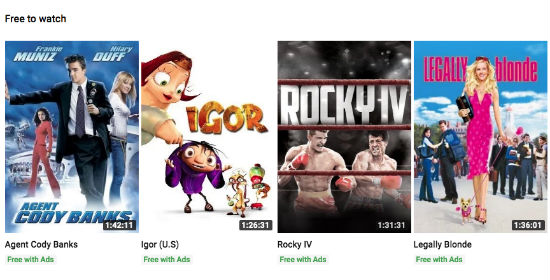 These movies will all say, "Free with Ads," and you don't need log-in credentials.
Stream free movies: YouTube
So far, you can stream up to 100 movies (and counting) on YouTube free of charge. So, if you aren't watching any Thanksgiving specials, or sitting through holiday movies in preparation for the Hallmark Channel or Freeform's respective countdowns, there are plenty of options to choose from.
You can stream free movies such as Zookeeper and The Terminator. Other classics include the Rocky series, Agent Cody Banks, Legally Blonde, Uptown Girls and, my personal favorite, Sleepover with Spy Kids' Alexa Vega.
Thanksgiving isn't the only time you can take advantage of this YouTube service to stream free movies. Why not binge-watch films on this platform alone, too?
Of course, we're all about fostering connections with loved ones, especially during the holiday season. We're just stating the obvious: that technology, more likely than not, will be integrated into your family meal, and these free YouTube movies are something to consider.
It's still "togetherness." And, you can certainly pull out the board games. I, for one, know my Grandma is ready to beat me (AKA, cheat) at Monopoly.