Fall is coming up way too fast, but the season of cold brew coffee isn't over yet. The social food ordering Ritual app is putting a little bounce in your step to cross off all your 2018 Summer Bucket List items by offering $1 cold brew all this week.
From Monday, Aug. 13 through Sunday, Aug. 19, you'll find $1 cold brew coffee at more than 65 locations across New York City, including Fika, Joe & the Juice and even Epicerie Boulud. Think of all the pastries, acai bowls and other fun foods you could enjoy with your coffee savings! Hey, the upside of summer ending is cozy fall fashion just around the corner.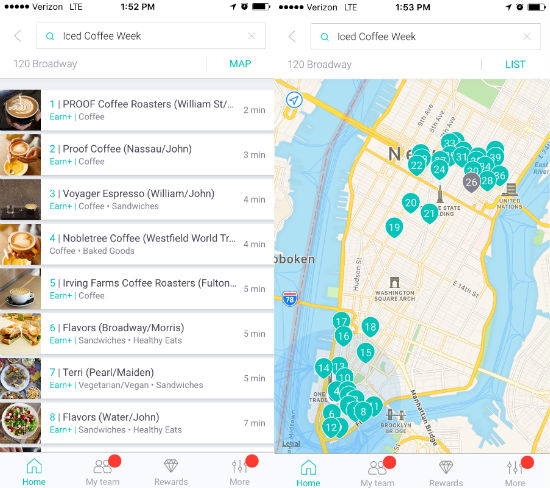 How to get $1 cold brew coffee with Ritual
Before grabbing your usual caffeine fix during the week of Aug. 13 through Sunday, Aug. 19, download the Ritual app, then search "Iced Coffee Week" to find participating cafes near you. Download the Ritual app for iPhone or Android. And for even more discounts, new customers who use the promo code SOCIAL will receive $5 off their first two orders.
Ritual offered its Iced Coffee Week promotion in mid-June, too (though there were only 30 cafes participating then), as well as a BOGO lunch deal for 12 days in March to prove lunch doesn't have to be a hassle. Ordering lunch at the office — not to mention going out to get it — can be a hassle, especially if other colleagues are involved, but the Ritual app's social ordering feature might just be the best thing you do for your career this week.
Full list of places offering $1 cold brew coffee
Great Northern Food Hall
Barclay Street Cafe
Grandaisy Bakery
Epicerie Boulud
Joe & The Juice
Tartinery
Beans & Greens
3rd Floor Coffee Bar
Le Pain Quotidien
Crave Sandwiches
Cafe Bari
The Country Cafe
Hanover Gourmet Deli
Cafe Water
Black Fox Coffee
Latte Art
Cafe Arte
Pour Coffee
Terri
Koyzina Kafe
Pisillo Italian Cafe
Proof Coffee
Voyager Espresso
Cafe Arte
Mangia
Patisserie Chanson
Pondicheri
Zucker's Bagels
Bite
Artiserie | Sandwich Boutique
Zucker's Bagels and Smoked Fish
Mrs. Fields/Liberty Deli
Toasties
Tisserie
Delgado's News Stand
Little Collins
The Mill
Zucker's Bagels and Smoked Fish
Grandaisy Bakery
Cafe Kabila
Egghead
Espresso Matto
Murray's Bagels
Wattle Cafe
Brooklyn Diamond Coffee
Check the app for participating locations:
Fika
Zaro's Family Bakery
Devon & Blakely
Matto
Argo Tea
Kaffe 1668