Fall may not seem like the season to think about going to an island, but that's because you've never had the chance to experience Governors Island when the seasons change.
This year, the city's summer playground extended its season by two months, through Oct. 31. That means you've still got two weeks to take a foliage stroll right here in the city among the Hills and historic buildings, or just enjoy the brisk fall air while riding a bike ride on its totally car-free pathways.
Or you can jump right into Halloween with tons of themed events during the last two weekends of October.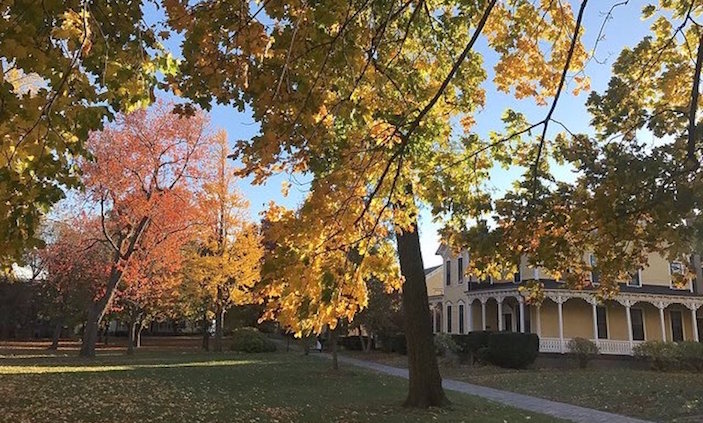 See the leaves change amid Governors Island's historic buildings. Credit: @gov_island, Twitter
Take the short ferry ride to the island's reimagined Picnic Point on Oct. 21-22 and Oct. 29-30 between 11 a.m.-5 p.m., and you'll instead find yourself at Pumpkin Point, a giant pumpkin patch of 2,000 gourds — minus the one you can take home, of course.
While enjoying the Statue of Liberty views and choosing which pumpkin you'll deface, you'll be treated to live music by different acts each day, ranging from jazzy blues to revived folk music, bluegrass on the banjo and ragtime on a ukulele. Even the tunes are seasonal!
Halloween-themed treats like "ghoulash," made with produce harvested on Governors Island, pies and hard cider will be available from Little Eva's, plus arts & crafts activities and even a hayride to take you back to the ferry point.
If you haven't gotten tickets yet to Rise of the Jack O'Lanterns, the first-ever haunted pumpkin patch within city limits, time slots are selling out fast. Coming down from Old Westbury Gardens to Colonels Row on Oct. 26-29 from 6-10 p.m., get ready to be spooked and awed by hand-carved pumpkins as you stroll along a decorated pathway.
Get your blood pumping at the Rising Sun Performance Company's final weekend of performances on Oct. 21-22. Their eight-week residency creating new scripts and site-specific works culminates in a spine-chilling tale called Most Wretched Deathbed Fever Dreams of Edgar Allen Poe, written by Donna Latham.
Finally, on the last Saturday of its season, Oct. 28, get in some early trick-or-treating with the kids (and big kids, too — anyone in costume gets free candy) amid the historic homes in Nolan Park from 2-5 p.m.
As always, there's no entry fee to Governors Island except the $2 round-trip ferry ride (free for kids under 13 and weekend mornings before 11:30 a.m.).