You know what question Isabela Moner gets a lot? "Which Transformer is your favorite?"
"I change it up," says Moner, one of the young stars of "Transformers: The Last Knight," with a chuckle. "I just say a different Transformer each time."
At least they're asking the 15-year-old about Transformers. In the new film, the actress plays Izabella, a tomboyish orphan who joins up with Mark Wahlberg's Cade Yeager as a war breaks out between the Autobots and humanity. Historically, the brand — not just the new movies, but the old TV show and the Hasbro toy line — have been thought of as being exclusively for boys. But there have always been girls who loved them, too — or if not Transformers, then other toys aimed at males.
"I played with hot wheels," Moner remembers. "I had two brothers, and those were the most interesting toys to me. I just gravitated towards them. No one told me to; no one told me I shouldn't. I just kind of did. People should make those decisions based on what they're drawn towards."
In her mind, segregating genders has always been arbitrary, subject to change. She points out that in the 1900s, pink was considered a masculine color and blue was very much feminine.
"We're trying to break those stereotypes — hopefully in a non-trendy way," Moner says. "Political movements can become trends, and that's what we're trying to avoid. We do not want equality to become a trend."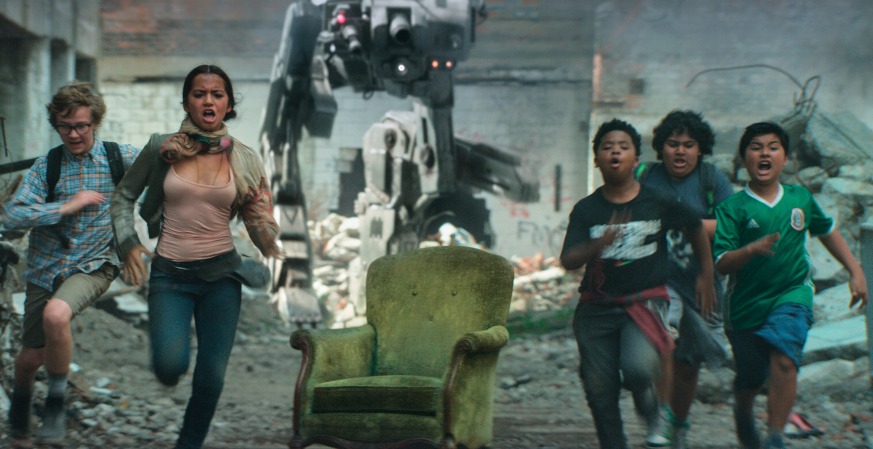 Moner's career so far has shown that she can't be reduced to one thing. She's famous for her starring role on the Nickelodeon show "100 Things to Do Before High School," which ended last year. Before that, she did Broadway, appearing in "Evita" alongside Ricky Martin in 2010. But she doesn't want to be seen as only a child star. Her next film is "Soldado," the sequel to the intense drug war drama "Sicario." 
"On set, you deal with a slight ageism, where your ideas on a scene are less respected," she says. "Sometimes I'm not even listened to, because I'm a kid. I'm just supposed to do what I'm told. Everyone has to build respect for themselves. I've got to work extra hard to do so."
Moner also has to put up with people being afraid of her. Recently, she posted a picture on Instagram of her at a premiere with the caption, "What do you mean, he's just intimidated by me?" Fellow young star Becky G commented in solidarity, saying, "Story of my life." The post came about after several of her friends were discussing all the boys who seem too terrified to talk to her.
"I actually asked some boys what their impression was of me. They said, 'I thought you were an alien. You carry yourself like you're 30 years old. It's like you're from another world,'" she recalls. "I asked, 'Do I come off as conceited?' They're like, 'No, not at all.' I never get a direct answer at all. So I've yet to find out."
"I don't think I'm a scary person," say adds. "Maybe it comes down to how I'm always traveling. I guess I'm going to make my dad happy by not dating till I'm 30."
Either way, she's not worried about anyone turned off by her newly short locks. She cut her hair for "Soldado," and has so far kept the short 'do.
"I really like having it. Everything's easier," she says. "And it weeds out people who are more shallow. The idea is that guys don't like girls who don't have long hair. I'm like, 'Good riddance to you.' Me, I'm embracing it."
Follow Matt Prigge on Twitter @mattprigge