Bayern Munich and Germany defender Jerome Boateng's time with the Bavarian club looks to be up with a possible transfer to England in the cards. 
It looks as though Bayern Munich is done with him despite the 29-year-old being one of the most solid center backs in the world. According to German publication TZ, Munich is ready to sell Boateng because of his friendship with Jay-Z because of the constant travel and distractions that comes with the collaboration. 
Legendary Premier League club Manchester United has been linked with Boateng as of late, the Red Devils in need of a consistent center back to bolster the defense. 
Eric Bailly, Phil Jones and Marcos Rojo have experienced their fair share of injury issues that have made them somewhat unreliable, hence Jose Mourinho's desire to bring in a new talent.
Barcelona and Colombian defender Yerry Mina is also on United's radar, but an inability to secure him as it looking at other targets. 
Boateng has spent time in Manchester, albeit for the blue side of the city with Manchester City. Boateng appeared in 16 games for the Citizens during the 2010-11 season before moving on to Bayern Munich.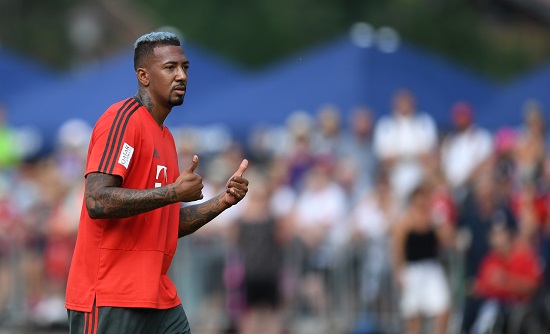 Since joining the Bavarians, Boateng has won six Bundesliga titles, three German Cups, two Super Cups and a Champions League title. He also played an integral role in Germany's World Cup-winning campaign in 2014 in Brazil.
That kind of resume would be more than welcomed at Old Trafford as Manchester United attempt to regain control of the Premier League from their noisy neighbors. But they will have competition for Boateng. 
PSG still in on Jerome Boateng
French club Paris Saint-Germain (PSG) saw a deal for Boateng break down earlier this week and are still considered major players in his pursuit. 
While the Parisians are the class of France, they are still a few pieces away from seriously contending for the Champions League despite having a high-flying attack that includes Neymar and Kylian Mbappe. 
One of the club's biggest needs is at the back, PSG formerly being inked to United's Rojo.