After Gov. Andrew Cuomo announced that the full L train shutdown wasn't necessary to rehabilitate the Canarsie Tunnel, the MTA has officially weighed in, and agreed.
There's no currently timeline yet for when the new L train construction plan will begin, but the transit authority said that it hopes to have a final construction schedule and completed contracts within "several weeks."
One thing that's a definite is that the L train shutdown New Yorkers had been expecting for years will not begin on April 27.
"The total shutdown of both tunnels and all service scheduled for April 27 will not be necessary," the authority said in a statement. "We do anticipate a shutdown of one tube on nights and weekends, however service both ways (between Manhattan and Brooklyn) would be scheduled 24/7."
Cuomo first announced on Jan. 3 that the L train shutdown wouldn't be necessary, upending years of planning by design consultants and leaving New Yorkers and even MTA board members with plenty of questions.
The new plan is expected to take between 15 and 20 months, compared to the 15 months of a full L train shutdown, and last up to 50 years.
New L train reconstruction plan is 'innovative,' experts say
Cuomo's revelation was thanks to outside engineers the governor brought in to inspect the tunnel. WSP (previously called Parsons Brinckerhoff), which has been the design firm managing the L train project from the beginning for the MTA, "has done extensive work studying the new design alternatives and has informed the MTA (and discussed at a public meeting on January 15) that the proposed construction design alternatives are indeed applicable to the L train and can significantly reduce construction time and thus the inconvenience to our riders," according to the transit authority.
Instead of completely replacing the L train tunnel's concrete bench wall, which was damaged during Superstorm Sandy, the new L train tunnel restoration plan will include "laser light technology to determine structural defects, smart fiber optic sensor technology, and carbon fiber wrapping to reinforce components."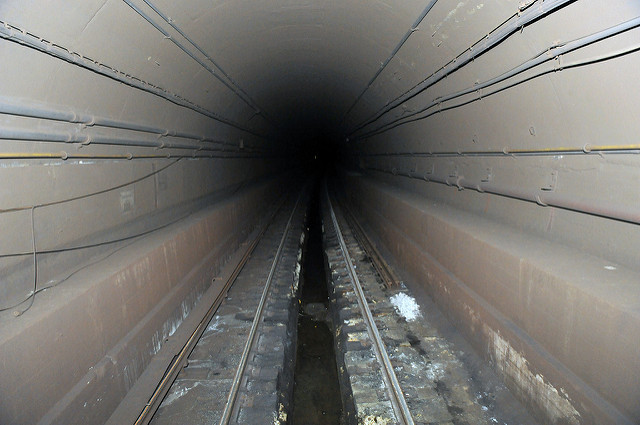 An image after crews removed water from the Canarsie Tunnel following Hurricane Sandy. Photo: MTA New York City Transit / Marc A. Hermann
When announcing this new plan, Cuomo touted its innovation. These methods have been used in other countries and for infrastructure like bridges, experts said, but never before in the United States and in this context of an underwater tunnel.
The MTA added in a statement that "some of these alternatives have not been used" by the transit authority before, and that "the design integration would be an innovation for the MTA."
The MTA will hire an independent consultant, who will report directly to the board, to oversee safety operations of the new plan. Officials do not believe this new plan will increase the L train tunnel repair costs, according to the MTA, and "given the tremendous benefits to the riding public, reduction in the volume of traffic and savings from the traffic mitigation efforts, it is a clear positive alternative and in the public interest."