Look like it's going to be one crazy summer.
Many hoped, surely, for a new series of "Twin Peaks" that was like the old "Twin Peaks." Others, including us, longed for what we got. And what we got wasn't old "Twin Peaks." At all.
Yes, from the first two episodes that aired tonight (and the two more that went online just after), it appears we're in for what will be a full 18 hours of pure, uncut, off-the-deep-end David Lynch. This is the David Lynch who swore off narrative and mainstream accesibility altogether in the 2000s. This is the David Lynch whose last film was "Inland Empire" — three solid hours of impenetrable, brain-banging madness. And it's glorious.
There's been endless talk of all the shows the original inspired. We wouldn't have "The Sopranos," "Mad Men," "Breaking Bad." That's all true — but this is a world of which this new "Twin Peaks" wants no part. The first two episodes — which basically played like one episode, with no clear break for two hours — didn't tie up all the crazy loose ends from the final episode 26 years ago. It only showed us a handful of favorite characters, and then only briefly and inscrutably. There was no cherry pie, and only talk of coffee but none in sight.
We did learn about one loose end: Agent Dale Cooper (Kyle MacLachlan) is still possessed by malignant spirit BOB (the late Frank Silva). His soul (or whatever) is still trapped in the otherworldly Black Lodge. His body, though, is out in the real world, with BOB having long ago turned him into some criminal lowlife whose grown out his hair and knows how to use his fists. (Check out his new digs in the picture below.) A fair amount of the first two episodes find Good Cooper lost in the Black Lodge, and being cast out. But we don't know if he'll materialize later or what. The show doesn't look like it will be big on clarity.
As for the others? Well, we spent a couple minutes watching Dr. Jacoby (Russ Tamblyn) as he received some shovels. Lucy (Kimmy Robertson) had a confusing conversation with an insurance salesman, alluding two "two Sheriff Trumans," when we know Sheriff Harry S. Truman (Michael Ontkean) will not be returning. Ben and Jerry Horne (Richard Beymer and David Patrick Kelly) talked chicks, the latter looking like a deranged mini-Santa Claus. We saw Laura Palmer (Sheryl Lee) at the Black Lodge and she was destroyed? Maybe? Who knows!
And then there was the Log Lady. If you wanted simple '90s nostalgia, you got two heartbreaking scenes with actress Catherine E. Coulson, who died two years ago, before most of the show was shot. She looks frail, near-death; as she places calls to still-dashing Deputy Hawk (Michael Horse), her voice is shaky with sadness, as though she knew this would be her last will and testament.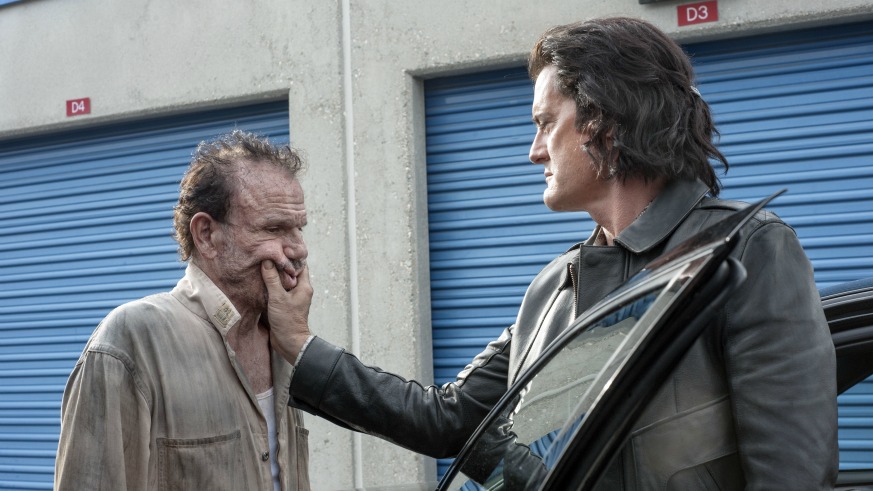 For the most part, nostalgia has nothing to do with the new "Twin Peaks." The bulk of the two episodes didn't involve returning characters. Over half of it wasn't even set in Twin Peaks. (There was even a brief, mysterious jaunt to Las Vegas.) Much of the first episode took place in a South Dakota town, involving a murder that may have been committed by a kindly family man (Matthew Lillard). Maybe he was possessed by a BOB-like demon? Nothing is clear so far. Lynch has 18 hours to fill, and he's taking his time. And how. A good 40 percent of the show is filled with dead air — like an entire scene of a train passing through at night that serves no apparent purpose other than to hypnotize us into a trance, mess with our mind, make us wonder what the hell we're watching.
This may sound like we're complaining. We're not. We love this. We love that it's a big middle finger to our expectations, our entitlement, our belief that we deserve to have the old "Twin Peaks" back, even though the general public perception of old "Twin Peaks," as Vulture's Matt Zoller Seitz persuasively argued, is for the most part wrong. We love that Lynch and his co-conspirator Mark Frost coaxed/tricked Showtime into giving them Showtime money to fund their weird art freak-out, and then coaxed/tricked the masses to puff it into one of the biggest television events of our times. We love that this "Twin Peaks" will be making life hell for TV recappers, who will spend every Sunday trying to explain events that make absolutely no sense.
We love that it completely ignores how a television today works — how it has no clear structure, that it ends with a night at the old Bang Bang Bar that finally, two hours in, shows two classic characters (Madchen Amick's Shelly and James Marshall's James) then ends right there. We love that our nightmares will be haunted week after week by inventively messed-up corpses and Lynch's usual nerve-jangling sound design and that "Evolution of the Arm" talking art piece thing that was basically a tree with a brain that spoke. We love that it doesn't give us what we expect, unless you're expecting the unexpected. Which, in retrospect, we definitely should have.
And it might just go on like this all summer long. We couldn't be happier.
Follow Matt Prigge on Twitter @mattprigge