The weekend of the French began right here in New York on Saturday. Before the national soccer team took on Croatia in the 2018 FIFA World Cup Final, Jean-Eric Vergne secured the 2017-18 Formula E driver's championship with a fifth-place finish in the second-ever New York City ePrix in Red Hook.
And it was on Bastille Day.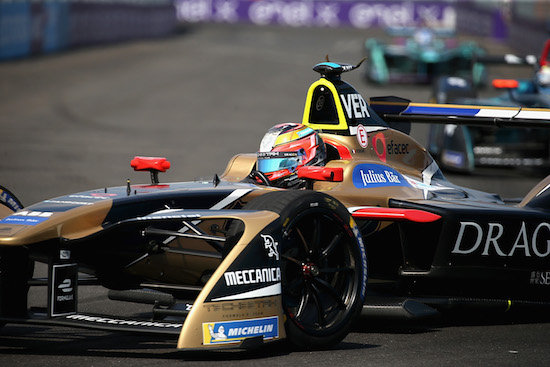 Lucas di Grassi won the first of the two races, which took place on Saturday and Sunday, but Vergne of Team Techeetah Racing's finish ensured that there would be no final-race dramatics this year as the lurking Sam Bird finished ninth. 
It wasn't easy, though. 
Due to a technical infringement, better known as a software malfunction in the Team Techeetah vehicles, Vergne and his teammate Andre Lotterer were excluded from qualifying and had to start Saturday's race from the back of the pack.  
Entering the NYC ePrix, Vergne held a 23-point lead in the driver's standings over the second-place Bird of DS Virgin Racing, a poor showing in Zurich, Switzerland allowing the Englishman a chance at pulling off an impressive comeback. 
The fact that Bird, who started the had been the only winner in the history of the NYC ePrix, sweeping both races last year, only made Vergne's standing atop the leaderboard all the more uneasy. 
Bird would begin the race in 14th and quickly move into the top-10, which are the only spots that award points to the field. However, Vergne and his teammate Lotterer conserved energy in their electric cars brilliantly. While a majority of the pack faded, the two shot up the ranks and by the 16th lap, Vergne passed Bird for 10th place.
His opposition's aggression might have helped open the door for him to move up so quickly. 
What Vergne saw at Formula E's NYC ePrix
"I enjoyed the race, but obviously, it was very tough," Vergne said. "Some drivers were quite hard and overconsumed energy to try and not let me by. It was actually really complicated, a real fight unlike in Zurich. Today, the drivers were tougher."
Lotterer also helped, moving up into the top-five before allowing Vergne to pass with ease, ensuring that his first-place perch in the standings could not be lost.
"I cannot believe it, what a crazy race," Vergne said. "I have waited the whole season for this, but when I crossed the line I honestly did not know I had won. My engineer told me, 'I guess we've done it,', so I said, 'what do you mean?' Then Lotterer went past me and clapped so I knew something was up. When I found out, I was speechless."
Vergne's title is his first since 2010 when he was racing in the British Formula 3 division.