Let's talk about pizza. Depending on where you're from, tomato sauce, crust and cheese can mean very different things. There's the classic NYC pizza slice and the ever-daunting Chicago deep dish that my coworkers insist is the experience of all experiences.
Some people go for pizza on a bagel. Some, even, prefer it topped with a heavy helping of dressed salad (guilty). Once you find something that works for you, you stick with it — as is life.
But, according to new TripAdvisor data, NYC pizza takes the cake for the best 'za across the country.
The results were based on millions of reviews from TripAdvisor diners and were split into two rankings: the top 10 individual pizzerias and, separately, the top 10 U.S. cities for pizza overall.
"Everyone wants to know where to get the best slice and after sinking our teeth into TripAdvisor data, we delivered the top pizzerias and cities for pizza across the country," Brooke Ferencsik, senior director of communications for TripAdvisor, said in a news release.
"A list with a lot of flavor, it's topped by some iconic destinations for pizza along with some surprising tastes in Nashville and Anchorage," she continued. "The common ingredient in all of these spots is an exceptionally delicious slice."
Boston did beat out NYC for the best U.S. pizza joint: Regina Pizzeria (though Boston Metro staffer Matt Juul argues Santarpio's on Chelsea St should have won instead).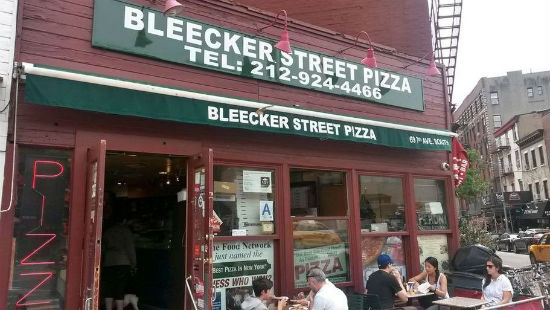 NYC's Bleecker Street Pizza is second on that list, followed by New Haven, Connecticut's Modern Apizza. Brooklyn's Juliana's Pizza wound up in sixth.
When it came to the superior city overall, NYC pizza was ranked as the number-one place for 'za.
A TripAdvisor spokesperson tells Metro that the Top 10 U.S. Cities for Pizza ranking was compiled "based on the quality of pizza restaurant reviews and the quantity of pizza restaurants and their great pizza reviews, with more weight given to reviews in the past year."
New York was followed by Chicago, Las Vegas and San Francisco. To view the full data, click through to TripAdvisor's website.
Metro Staffers dish on their favorite NYC pizza joints
Though I was born in New York (Morningside Gardens to be exact) I moved to the New Jersey suburbs before I reached the terrible twos. I've had my fair share of pizza — of course I have — but I didn't grow up in the NYC pizza scene and wouldn't dare try to pretend I'm an expert on the matter.
Rest assured, other Metro staffers have spoken about their NYC pizza favorites. Let's get to it.
Prince Street Pizza
Where: 27 Prince St A, New York, NY 10012
"Prince Street Pizza's spicy spring pie is, hands down, my favorite pizza in the whole world," Nikki M. Mascali says. "It's a thick square with Fra diavolo sauce, fresh mozzarella and an ample amount of spicy pepperoni that cooks up into these little cups of deliciousness. I'm salivating just thinking about it." (Me too.)
Charles "Charlie's" Pizzeria
Where: 4910 5th Ave, Brooklyn, NY 11220
"Growing up in Brooklyn, the best pizza spot in my neighborhood was and still is Charles Pizzeria," Luis Matos says, adding that he likes "it all," but if he had to choose, a regular slice does the trick. "Fresh tomatoes and cheese … you can't go wrong with that."
Motorino
Where: 510 Columbus Ave, New York, NY 10024
"It's so hard to pick a favorite pizza from Motorino because they're all so dreamy and indulgent," Linnea Zielinski says of the 'za joint that only sells full Neapolitan-style pies. "Their crust is perfectly salted, with a tiny bit of char on the bottom but good chew on the ends. It soaks up sauce but also holds its structure, even under the weight of their generous toppings."
"But if I really had to choose, it would be their Prosciutto di Parma pizza, which is absolutely covered in prosciutto," she declares. "Covered doesn't even do it justice. They layer the perfectly salty topping all the way from the middle to edge of the crust." (Hungry yet?)
Note: Motorino also has locations in the East Village and Williamsburg.
Famous Ben's Pizza
Where: 177 Spring St, New York, NY 10012
Lenyon Whitaker says that there's nothing "too special" about the place itself, but when it comes to what they serve, "they seem to get it right with the right amount of cheese and sauce and a perfect crust."
Brooklyn Pizza Crew
Where: 758 Nostrand Ave, Brooklyn, NY 11216
"Having a pizza place that can deliver both on a sloppy slice — and I mean that in the most endearing way possible — and a fresh and explosively delicious Grandma slice is something that you really should never take for granted," Pat King says of Crown Heights' Brooklyn Pizza Crew. "This place is displaying some serious mastery at work. A time-tested understanding of cheese to sauce to crust alchemy that is unparalleled in the five block radius from my apartment."
If you've got your own NYC pizza favorites, by all means, go get that 'za. We'll be over here enjoying ours.