The Andy Warhol quote everyone knows is the mantra of our viral video age: "In the future, everyone will be world-famous for 15 minutes." But it's another quote by the most famous American artist of the 20th century that starts off the Whitney Museum's in-depth retrospective of his entire career — before the Campbell's Soup Cans and well after — that speaks to our cultural moment even more: "Everybody has their own America… And you live in your dream America that you've custom-made from art and schmaltz and emotions just as much as you live in your real one."
In fact, many of the staggering 300 works from over 100 lenders that make up Andy Warhol: From A to B and Back Again seem prophetic to the point of doubting whether American culture has changed at all since Warhol's sudden death in 1987.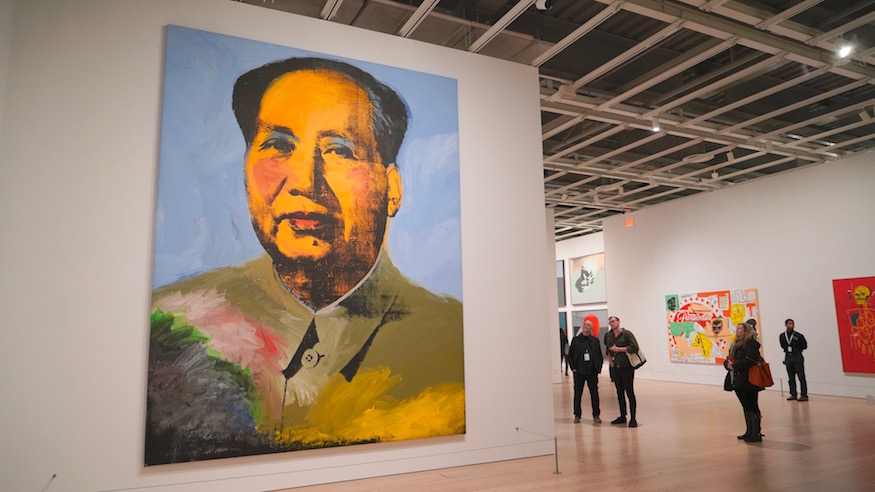 "The themes that preoccupied Warhol — mass media, celebrity culture, entertainment and politics — these shape our lives even more directly than they did during his lifetime, making his work not only more prescient but more relevant," says Adam Weinberg, director of the Whitney Museum.
"Through his work, Andy asks us to think about such questions as, 'What is history? What lasts? Who is a historical figure? When does news become history? When does news become fake?' This exhibition reappraises Warhol, who taught us to look at all matters including sex, death, fame, brutality, business, money, power and race without flinching. Not bad."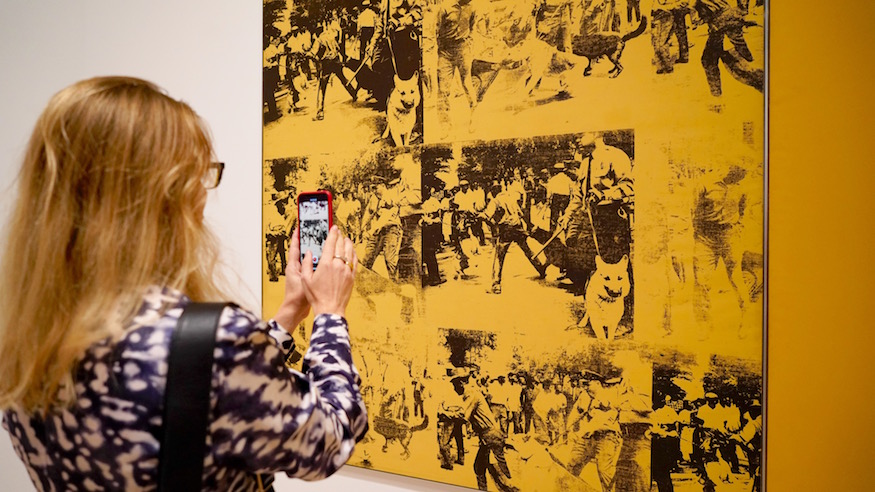 Living in Andy Warhol's America
For every person who loves Andy Warhol's art, you've got another one who accuses him of merely piggybacking on other people's work. But a look at the most popular art of today — online memes — shows that knowing how to take an image and give it new context with digital editing or a caption is absolutely an art form.
"Many people have often thought Warhol didn't get his own ideas," says curator Donna De Salvo. "The power of Warhol's work really stems from this acute awareness of how images both live in the culture and how powerful they can be and how they need to be presented."
From A to B gives you that chance, putting the single frame of Marilyn Monroe's Pop Art portrait into the context of the dozens of others that turn black and white and then fade off the canvas. Whether you see it as a commentary on the inevitable end of fame or how the Marilyn Monroe we "know" is a Hollywood construct rather than a real person, you'll never look at that portrait the same way again.
The exhibit is also a tour of the people and events that shaped the world, for better and worse. Surely nowhere outside of China is there a portrait of Chairman Mao as large as the 14-foot canvas looming in the Whitney's fifth floor. There's also Jackie Onassis, her joy at riding alongside President Kennedy in his Dallas motorcade placed right next to her grief at his funeral, and the Mona Lisa and her ongoing influence on the art world. Warhol called out the violence he saw as becoming normalized: an entire room is devoted to his canvases of the brutal police attacks on black demonstrators, car crashes swarmed by paparazzi, the Last Supper overset with camouflage pattern — perhaps a nod at his warring identities as both a Byzantine Catholic and a gay man?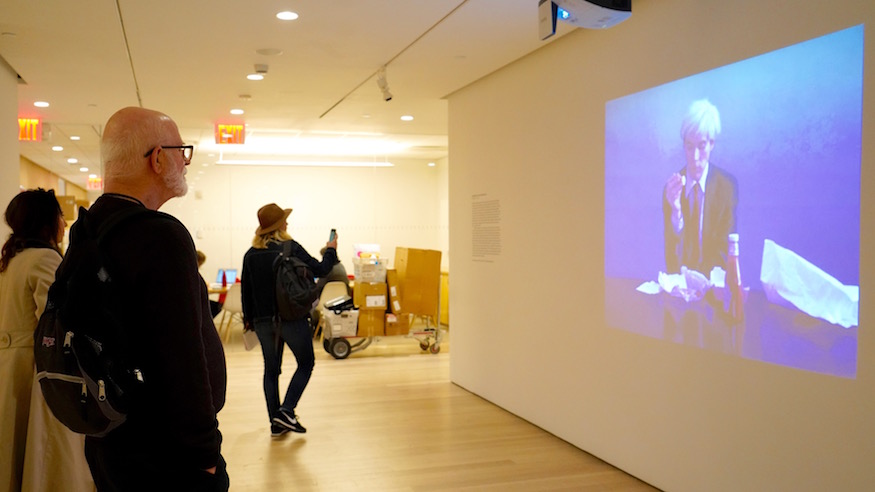 What Andy Warhol would've thought of millennials
In many ways, Andy Warhol is typical of the millennial generation who came along just before his death in 1987. 
From A to Z spans three floors of the Whitney, and visitors to the third floor are greeted by a video of Warhol sitting at a plain table, slowly unwrapping then eating a hamburger. It's the pre-internet version posting an artful photo of your food on Instagram. (Not to mention watching people eat is an entire YouTube genre.) He painted a whole series of trans women, looked into his own soul through Rorschach ink blots, and contemplated mortality with gothic skulls.
As for made–for–selfie galleries? Warhol actually "announced" his exit from painting in 1966 with a two-room exhibition: one filled with silver balloons, another covered in Cow Wallpaper, "to imply that he had exhausted the possibilities of painting." Ouch. He'd likely be disappointed that we haven't managed to come up with something more creative.
Maybe, then, it's a third Andy Warhol quote that may inspire the next great movement in art, and even society: "They always say time changes things, but you actually have to change them yourself."
Andy Warhol: From A to B and Back Again is open now to museum members and Nov. 12 to the general public through March 31, 2019. The Whitney Museum is located at 99 Gansevoort St., and the exhibit is included with admission: $25 adults, free for kids 18 and under. whitney.org