A revival season of the '90s hit sit-com Roseanne aired earlier this year — it was the series' 10th go-around overall. After a successful run, ABC ordered a 13-episode second season for this fall, only to cancel these plans due to a racially charged tweet from the series' star, Roseanne Barr. A Roseanne spinoff, The Conners, will premiere in place of the sophomore reboot without their leading lady.
The tweet in question (which is no longer on Twitter) compared former Obama advisor Valerie Jarrett to a cross between the "Muslim brotherhood" and an ape. Barr has since apologized. 
"Roseanne's Twitter statement is abhorrent, repugnant and inconsistent with our values, and we have decided to cancel her show," ABC Entertainment President Channing Dungey said at the time.
ABC announced in June that the comedian/actress "will have no financial or creative involvement in" The Conners.
Barr said recently on Rabbi Shmuley Boteach's podcast, "They can't take my show away and they can't take my 10th season away," also revealing that she's in the process of writing a new sit-com. And, when the Roseanne spinoff airs, she'll be abroad in Israel.
"I have an opportunity to go to Israel for a few months and study with my favorite teachers over there," Barr said. "And that's where I'm going to go and probably move somewhere there and study with my favorite teachers. I have saved a few pennies and I'm so lucky I can go. It's my great joy and privilege to be a Jewish woman."
Being abroad, she said, will keep her away from the temptation to respond to potential bad press during the premiere and thereafter.
Here's everything we know about The Conners.
The Conners plot: How will they write off Roseanne Barr?
The Conners, which is reportedly comprised of 10 episodes, will center around the remaining Conner family and friends now that Barr is no longer on the show.
"After a sudden turn of events, the Conners are forced to face the daily struggles of life in Lanford in a way they never have before," the logline reads. "This iconic family—Dan, Jackie, Darlene, Becky and D.J.—grapples with parenthood, dating, an unexpected pregnancy, financial pressures, aging and in-laws in working-class America. Through it all, the fights, the coupon cutting, the hand-me-downs, the breakdowns—with love, humor and perseverance, the family prevails."
"The Conners' stories demonstrate that families can always find common ground through conversation, laughter and love," an ABC spokesperson said in a statement. "The spinoff will continue to portray contemporary issues that are as relevant today as they were 30 years ago."
The Roseanne spinoff will still take place at the same family home in the fictional town of Lanford, Illinois.
#TheConners: Day 1 ✅ pic.twitter.com/CjIgHA2oRq

— The Conners (@TheConnersABC) August 31, 2018
The Conners trailer
A teaser trailer came out at the end of August, though it doesn't show much (just a boat load of anticipation). Watch below:
Then, this teaser came out at the beginning of October: 
The Conners cast
Roseanne alums returning for the show include John Goodman (Dan Conner), Laurie Metcalf (Jackie Harris), Sara Gilbert (Darlene Conner), Alicia "Lecy" Goranson (Becky Conner) and Michael Fishman (D.J. Conner).
Goodman, who famously plays Roseanne's husband on the show, said to The Times UK of his character, "I guess he'll be mopey and sad because his wife's dead."
He revealed to The Times that he was "brokenhearted" by Barr's racist tweet and removal from the show. "But I thought, 'OK, it's just show business, I'm going to let it go.' But I went through a period, about a month, where I was very depressed."
"I'm a depressive anyway, so any excuse that I can get to lower myself, I will," he continued. "But that had a great deal to do with it, more than I wanted to admit."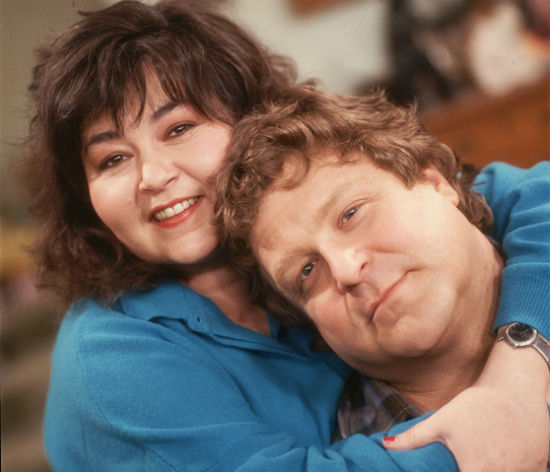 Maya Lynne Robinson was cast as series regular Geena Williams-Conner, D.J.'s wife.
Johnny Galecki will return as Darlene's ex-husband, David Healy. And TV Line reports that Justin Long will have a recurring role as Neil, Darlene's love interest. 
Juliette Lewis will play Blue, David's girlfriend.
Also signed on as series regulars are the grandchildren: Emma Kenney (Harris Conner-Healy), Ames McNamara (Mark Conner-Healy) and Jayden Rey (Mary Conner).
"The Conners are a family of acceptance and loyalty and I feel blessed to be able to help tell their story," Kenney, who turns 19 on September 14, said. "I'm really excited to start this new chapter in mine and Harris' life." 
McNamara, Darlene and David's son on the revival show and now on The Conners, does not conform to societal gender norms. "Mark's just a normal kid," McNamara said on Good Morning America back in April. "He likes to do art, he likes playing basketball and wearing girls' clothes is just a small part of Mark."
The Conners release date
The spinoff will air this fall on Tuesdays at 8:00 p.m. ET. This time slot, as it turns out, is the slot originally assigned to season 2 of the Roseanne revival.
Watch The Conners starting Tuesday, October 16, on ABC.