If you thought the hit AMC post-apocalyptic series was full of drama, just wait until you hear all the rumors buzzing around The Walking Dead season 8 episode 9. They have just hit their fiercest frenzy among fans yet.
In case you've been sitting quietly, patiently waiting for The Walking Dead season 8 episode 9, the midseason premiere, to air and usher in the back half of the season, we'll break down the buzz. Maybe creators of The Walking Dead decided to pull a Game of Thrones and throw off fans with strategic anti-spoiler tactics — it's sure starting to look that way, anyway.
The Walking Dead season 8 episode 9 trailer
A couple promos have been released for The Walking Dead season 8 episode 9, although they seem to tease more than just what will happen within that one episode. Think of them as sneak peeks of the whole back half of the eighth season of the series, or The Walking Dead 8B.
The official sneak peek, which you can watch below, starts with — you probably guessed it — a quick glimpse of Carl looking like he's fading quickly. But it seems fitting with a second trailer released called "No Guarantees" that even Carl's demise, which was once undisputed, now seems up for debate. Yes, really. We'll get to that in a second.
You can watch an extended version of the trailer below, which is entitled "Nightmare." This is clearly a promo for more than just The Walking Dead season 8 episode 9, and it's positively packed with drama even though it's less than two minutes long. One thing that's not ambiguous: It definitely will be all out war when The Walking Dead returns.
 
AMC released yet another trailer for the back half of the season on February 5, called "No Guarantees." If you listen to Carol's quote at the beginning of the clip, the creators of the show sure seem to be trying to prepare us all for a no-mercy season premiere. You can hear her say, "Winning just means we get to tomorrow. Maybe one more night. After that, no guarantees." If Carol's quote is taken to be the truth in this post-apocalyptic world (and, let's face it, she's rarely wrong), even if the original group does survive war with the Saviors, it doesn't grant them anything more than one more day in this battle-ridden wasteland.
Is Carl really going to die in The Walking Dead season 8 episode 9?
Until recently, this was a big resounding yes. We even broke down the answers to why did they kill off Carl when the people behind the show spoke out about the character's walker bite. Chandler Riggs, the actor who brings life to the beloved character, even spoke out about leaving the show. But was it all a trick?
Fans of the comic books pointed out that this would mark a major deviation of the AMC show from the books. Carl is all but slated to take over Rick's position as leader of the group, after all. There was even the scene that was almost frame-for-frame a mirroring of Rick's introduction back in the series pilot that seemed to set his son up to take his place.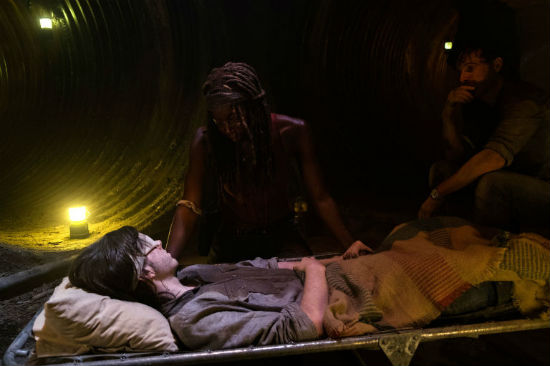 Then this happened: Series creator Robert Kirkman gave an interview saying that Carl might not die after all. (Cue the sound of minds exploding across the country.) "He's not dead yet," Kirkman teased at the recent Walker Stalker Cruise Q&A panel. "He might not die. You never know." He's clearly messing with all of us, right?
Kirkman went on to outline how Carl's death — if it actually happens — might affect Rick in ways that are interesting for the show's development. But everyone was caught up on that first part of the quote, especially since fans since unable to accept that Carl really is a goner. Theories abound on the internet right now about how Chandler Rigg's character could possibly survive through The Walking Dead season 8 episode 9.
Before you get too excited, we should remind you that Chandler Riggs himself as well as Scott Gimple have confirmed Carl's death. Even Riggs' mom took to Instagram to write a thank you note to The Walking Dead fans for Chandler's run on the show. Though we can't say 100% that it isn't all a fake out, odds are not in Carl's favor on this one.
The Walking Dead season 8 episode 9 potential spoilers
NOTE: Skip this section if you prefer the back half of season 8 to be a surprise.
Aaron and Enid survive
Although the midseason finale made it unclear whether the two were going to make it out of their meeting with the Oceansiders, the description for The Walking Dead season 8 episode 10 reveals they're still around. The official synopsis reads: "Groups unite their forces and converge on the Hilltop; Aaron and Enid search for allies." It's not much to work with, but if either Aaron or Enid is your favorite character, it's all you need to keep going.
All of the Scavengers might die
If you watch the trailer closely, you'll notice Jadis looking devastated. Watch it again and you'll notice Michonne being chased by a chaotic horde of walkers through, deep breath, Jadis' junkyard. And another shot, which seems less chaotic and therefore likely to take place before Michonne is chased, shows Savior lieutenant Simon threatening a Scavenger with a gun. All of the promos clearly point to more deaths in the back half of the season, so is Jadis' group a major loss in all out war? Does she look so emotionally distraught because she's the sole survivor of her group? We'll have to wait to find out.
We might finally understand that Old Man Rick sequence
And that's a really big deal for more than one reason, the most pressing of which is that it included shots of Carl grown up. Meaning he wouldn't die. Many fans assume this is a sign that the sequence is a dream or a fantasy, but we're sure the people still pulling for Carl's survival would beg to disagree. But we should get answers in The Walking Dead season 8 episode 9.
Andrew Lincoln told Entertainment Weekly that Carl and his last words to his dad are "the linchpin," and that "[i]t goes back to the flash-forward where my mercy prevails over my wrath. There is a balancing of the scales in Rick's life that happens in the back eight episodes. A lot of it is because of what is said in episode 9, by his son."
Maggie's baby won't appear this season
Scott Gimple made the timeline crystal clear for fans to understand why Maggie won't be giving birth in the back half of season 8. The seventh season takes place over the course of just 19 days, according to exec Denise Huth. That means Maggie's pregnancy is "quite early in, as it was in the book," as Gimple commented. "But the truth of the matter is," Cohen, who plays Maggie commented, "it's only been a matter of weeks since Negan killed Glenn."
In fact, if the AMC series follows the arc of the comic books, we won't see Maggie give birth at all. In All Out War, Kirkman writes in a time jump, and it's during this hop that Maggie brings her baby into the post-apocalyptic world.
On that note, Maggie might die — or leave
Maggie's fate isn't certain with the show at all. Although Andrew Lincoln and Norman Reedus have signed for the following season, Lauren Cohen has yet to settle her contract for season nine as of February 5. She's seeking a salary closer to that of Lincoln and has reportedly turned down a "modest salary increase in exchange for a long-term contract."
A departure for the character, whether that's a death or an abandonment of the original group, would be a huge game changer for the next season since she's still alive in the comic books from which the producers draw major inspiration for parts of the plot. We're keeping our fingers crossed that this one gets worked out quickly.
The Walking Dead season 8 episode 9 photos
Check out the few photos that have been released from the midseason premiere in the Instagram post from Entertainment Weekly below. You can see Carl clinging to life as the gang flees from a raging fire. (As if you weren't already counting the seconds until the episode airs.)
The Walking Dead season 8 episode 9 release date
You can catch the first episode in the back half of the hit AMC show, The Walking Dead season 8 episode 9, on Sunday, February 25 at 9:00 p.m. EST. The titles and short descriptions of the two following episodes have been released if you're looking for tiny teasers, otherwise you'll just have to wait another week for more of the walkers and all out war.