June marks LGBT Pride Month, and with it, pride events around the country take place, but when is Boston Pride Parade 2018?
June was chosen as Pride Month to honor the Stonewall Riots, a key event in the gay rights movement that happened on June 28, 1969 when police raided a gay bar in Greenwich Village, New York City, sparking riots and protests between law enforcement and New York City's LGBT community. The nation's first gay pride parade was on the first anniversary of those riots, June 28, 1970 on Christopher Street in Manhattan, and the concept of a pride parade quickly spread around the country.
The first Boston Pride Parade was in 1971, and the event has been ongoing to this day, marking Boston Pride Parade 2018 as the 48th event meant to "achieve inclusivity, equality, respect and awareness in Greater Boston and beyond."
So, when is Boston Pride Parade 2018?
Pride is a week long celebration in Boston with events from Pride Night at Fenway Park to parties and, of course, the parade. Boston Pride Parade 2018 is on Saturday, June 9.
Boston Pride is a not-for-profit organization, and works with a list of partners to put on the pride parade here each year. The organization says its mission is to produce events that achieve equality throughout the city and to foster "diversity, unity, visibility and dignity."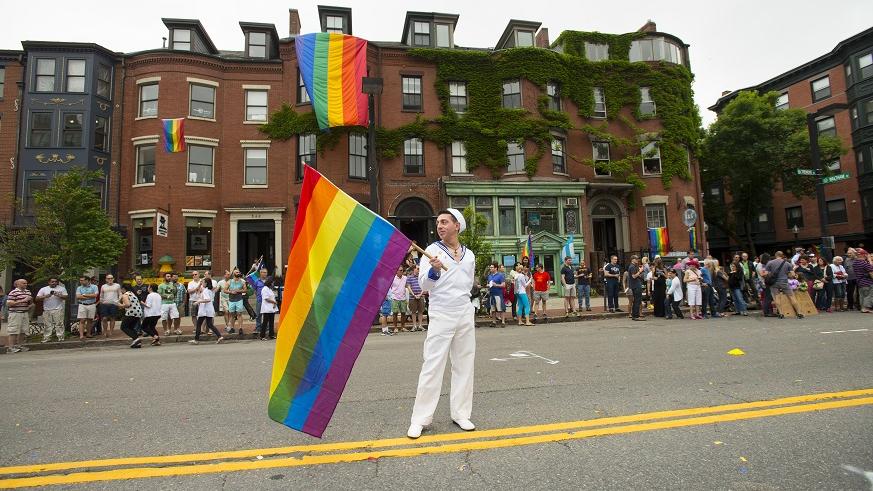 What is the Boston Pride Parade 2018 route?
The Boston Pride Parade kicks off at noon from Copley Square. Here's the parade route:
– Start at Boylston St and Clarendon St
– Turn right onto Clarendon St
– Turn left onto Tremont St
– Turn left onto Berkeley St
– Turn right onto Boylston St
– Turn left onto Charles St
– Turn right onto Beacon St
– Turn left onto Tremont St
– Arrive at City Hall Plaza on Cambridge St
Credit: Boston Pride
If you plan on attending Boston Pride Parade 2018, the organization recommends that you get there using the T, getting off at the Copley stop on the Green Line, since so many people are expected in the area and parking may be limited.
Boston Pride Parade 2018 is a rain-or-shine event, the organization said, so make sure to check the weather ahead of that Saturday and plan ahead.
Don't forget about Boston Pride Festival 2018
On the same day as the Pride Parade, Saturday, June 9, is the Boston Pride Festival, from 11 a.m. to 6 p.m. at City Hall Plaza. This event is also rain-or-shine, and features a Family Fun Zone, a free Boston Pride Concert (see the lineup at bostonpride.org/concert) and is handicap-accessible.
Since the Boston Pride Parade 2018 ends at City Hall Plaza, spectators who want to see the parade but can't stand or walk among the crowd can head to the handicap-accessible viewing area located near the Pride Festival. Seating will be limited, though, and is on a first come, first serve basis, so the organization asks that if you need handicap seating, to email parade@bostonpride.org to reserve a spot.
Still itching for more Boston Pride Parade 2018 information? Check out this year's Boston Pride Guide, the official annual magazine of Boston Pride, available in print across the city and online at bostonpride.org/guide.