There were many things Stormy Daniels wanted to set straight on 60 Minutes Sunday night. For those arguing that the alleged affair with Trump was long-standing, she says she only had (unprotected!) sex with him the one time in 2006. For those classifying her as part of the Me Too movement, she says she's not a victim. And, for those accusing her of being "an opportunist," she says that she's tried to handle everything as best she can for her daughter's sake.
The 60 Minutes segment ended with the adult film star addressing Trump directly: "He knows I'm telling the truth." Here are Daniels' notable talking points from the interview in case you missed it.
Stormy Daniels said Trump and Melania slept in separate beds during the alleged affair
"Melania Trump had recently given birth to a son [Barron], just a few months before," Anderson Cooper pointed out to Daniels. "Did he mention his wife or child at all in this?"
"I asked," Daniels replied. "And he brushed it aside, said, 'Oh yeah, yeah, you know, don't worry about that. We don't even — we have separate rooms and stuff.'"
She and her daughter were threatened
Daniels claims that a man threatened her and her daughter in 2011 (the year her daughter was born) after she'd disclosed information about the alleged affair to a magazine in exchange for $15,000 (the article was never published because Trump's attorney threatened to sue, and she was never paid). 
"I was in a parking lot, going to a fitness class with my infant daughter. … You know, getting all the stuff out," Daniels told Cooper. "And a guy walked up on me and said to me, 'Leave Trump alone. Forget the story.' And then he leaned around and looked at my daughter and said, 'That's a beautiful little girl. It'd be a shame if something happened to her mom.' And then he was gone."
Not long after the magazine story was killed, Stormy Daniels says she was threatened by a man who approached her in Las Vegas. "A guy walked up on me and said to me, 'leave Trump alone. Forget the story.'" pic.twitter.com/JMskKQiYCi

— 60 Minutes (@60Minutes) March 25, 2018
The bizarre spanking incident occurred after Trump wouldn't stop talking about himself
Back in January, we learned of some strange details from the alleged 2006 sexual encounter between Daniels and Trump: He had her spank him with a Forbes magazine (and he and his family graced the cover of that magazine).  
If my detective work is right, this would be the Forbes magazine Stormy Daniels is talking about.

Trump on the cover and it's from 2006.

I wish I could find a picture that isn't blurry, but this is the best I could do. pic.twitter.com/5FMVe8jbdm

— Red T Raccoon (@RedTRaccoon) January 18, 2018
Daniels told Cooper in the 60 Minutes segment that it was "all about him talking about himself." Then, he allegedly showed her the Forbes magazine.
"And so I was like, 'Does this … does this normally work for you?' And he looked very taken back like he didn't really understand what I was saying," Daniels explained. "Like, I was [like], 'Does, just, you know, talking about yourself normally work?' And I was like, 'Someone should take that magazine and spank you with it.' And I'll never forget the look on his face."
Daniels said she then told Trump to turn around and take off his pants, and she "gave him a couple swats."
Trump, according to Stormy Daniels, just really likes Shark Week
Trump allegedly asked Daniels if she wanted to be on "Celebrity Apprentice" and strung her along with the fact that he could possibly get her a part on the show. The two met in July 2007 at his private Beverly Hills Hotel bungalow for what he said would be a business meeting about that potential appearance.
"I remember arriving, and he was watching Shark Week," Daniels said. "He made me sit and watch an entire documentary about shark attacks."
"It wasn't at that point a business meeting, it was just watching Shark Week," Cooper stated, to which she replied, "Yeah."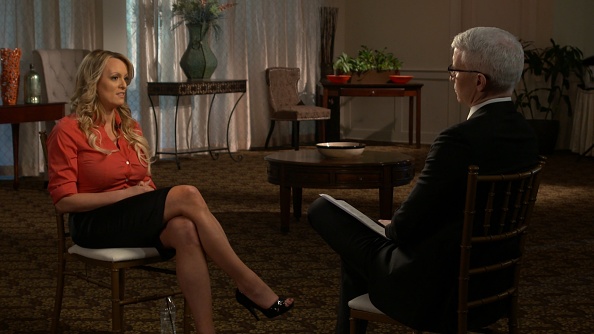 Like Stormy, like daughter?
As for the most uncomfortable part of the interview, Daniels alleged that Trump compared her to his daughter (probably Ivanka, if we were to make an educated guess).  
"Yeah. He was like, 'Wow, you are special. You remind me of my daughter,'" Daniels recalled. "…he was like, 'You're smart and beautiful, and a woman to be reckoned with, and I like you. I like you.'"
She was not attracted to Trump
Despite the president's denial of it all, Stormy said that they had sex in 2006, confirming it to Cooper on 60 Minutes.
"You were 27, he was 60," Cooper said before asking, "Were you physically attracted to him?"
"No," Daniels denied.
"Not at all?" Cooper asked, to which she said, "No."
But Stormy Daniels was NOT a victim
"This is not a 'Me Too.' I was not a victim," Daniels stated at the beginning of 60 Minutes. "I've never said I was a victim. I think trying to use me to further someone else's agenda, does horrible damage to people who are true victims."
When asked later on if she wanted to have sex with Trump, Daniels said, "No. But I didn't say no. I'm not a victim." This is, perhaps, the most notable part of the segment as over a dozen women have accused the president of sexual harassment and assault. 
You can read the full transcript from the 60 Minutes interview on the CBS website.