The CW announced that Ruby Rose will star as Batwoman in its annual Arrowverse crossover event slated to air this December. Writer Caroline Dries is also working on a script for a stand-alone series.
Batwoman — AKA, Kate Kane — is one of DC Comics' leading queer superheroes. 
The annual crossover episodes will include titular characters from Arrow, The Flash and Supergirl — Legends of Tomorrow reportedly will be staying out of the crossover this year.
Both Batwoman and the City of Gotham will be introduced into the mix this December. 
"This is the first time ever that Batwoman will make a live-action appearance on any screen," CW president Mark Pedowitz said this month.
The separate show is in the early stages of development, and Greg Berlanti, architect of the Arrowverse world, is reportedly working with Dries. 
Prior to her work on the potential upcoming series, Batwoman, Dries developed the script for The Vampire Diaries and, before that, worked on the Superman prequel series, Smallville.
Here's everything we know about the Batwoman show that could make history for The CW and DC Comics.
Welcome to the #DCTV family, @RubyRose — ready to bring Batwoman to life? Head here for more details: https://t.co/S4DGqk1gB0 pic.twitter.com/zXZ48Ld5pL

— DC (@DCComics) August 7, 2018
About Batwoman
Rose, 32, will portray Batwoman in the Arrowverse crossover event and beyond, wherever her character takes her — stand-alone series included.
The logline for the potential Batwoman series — and the general description of her character's story — featured on the DC Comics blog reads as follows:
Rose will be playing the Kate Kane version of the character, who, armed with a passion for social justice and flair for speaking her mind, soars onto the streets of Gotham as Batwoman, an out lesbian and highly trained street fighter primed to snuff out the failing city's criminal resurgence. But don't call her a hero yet—in a city desperate for a savior, Kate must overcome her own demons before embracing the call to be Gotham's symbol of hope.
Kane was introduced in 2006 and is Bruce Wayne's cousin. Her mother and sister were killed when she was young, and she was raised by her father, Colonel Jacob Kane. She went to West Point for school but dropped out after being discovered as gay.
For more on Batwoman's background and the history behind the comic series, 52 (as well as how she differs from Batgirl), click through to EW's explainer.
Batwoman cast
We know that Rose will be the lead of Batwoman if the series gets picked up.
Rose actually revealed on The Tonight Show with Jimmy Fallon that she used to make bat wings out of cardboard boxes when she was little — because she didn't grow up with a lot of money so she would handcraft her toys — and her mom also raised bats in the house.
"She nursed these little pet bats back to life, but then they couldn't go anywhere because they were domesticated," she said of her mom. "So they just lived in the house and sh*t everywhere."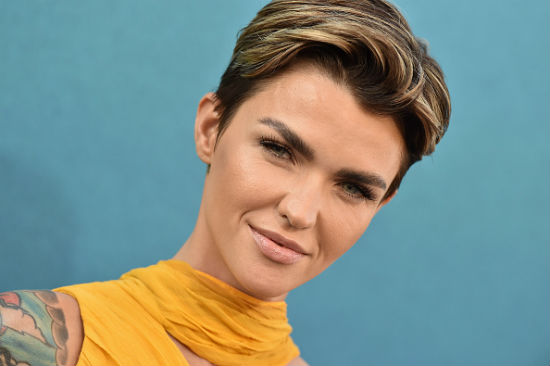 Rose's character in Batwoman would make Rose the first LGBTQ actress to play a lead in The CW's DC Comics shows. And, it would be the first time a live-action superhero show on the network was led by a gay character.
"Growing up, watching TV, I never saw somebody on TV that I could identify with, let alone a superhero, you know?" Rose told Fallon.
"Not only can kids watch this growing up and relate to it and feel empowered and think that they can be a superhero, but also, I can go and do these things like visiting hospitals and kids and people in need [in costume]," she said. "… it's an amazing opportunity."
Batwoman trailer
A trailer for The CW Batwoman show is not yet available since the script is still in the works. Check back in with Metro because we'll be adding a teaser or promo upon its release.
For now, here's the first teaser for December's Arrowverse crossover event:
Batwoman release date
There's no release date quite yet, but if picked up, the Batwoman series would air in 2019.
Metro has contacted The CW and DC Comics about more information regarding the stand-alone show.