Juventus and Argentinian striker Gonzalo Higuain is being heavily pursued by Premier League side Chelsea, which wants to wrap up a deal as soon as possible, per reports. 
According to talkSPORT, new Chelsea manager Maurizio Sarri is keen on bringing in the 30-year-old forward to bolster his squad's attack.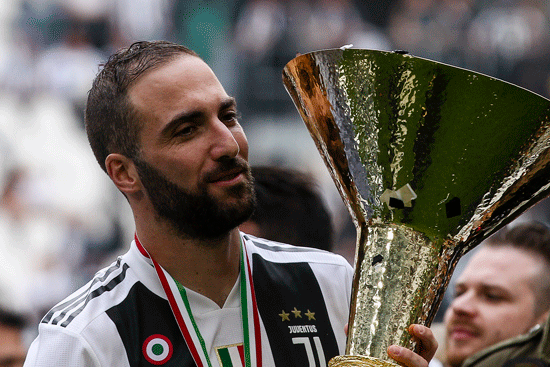 The two have a history together as Sarri managed Higuain for a single season while they were at Serie A club Napoli. It was a monumental 2015-16 season, though, as Higuain tallied 36 goals in 35 Serie A appearances. That tied Gino Rossetti's club record from 1929. 
The following season, Higuain was off to Juventus, where he has recorded 40 goals in 73 appearances for the Old Lady as he helped the club win a pair of Serie A and Coppa Italia honors. 
Originally believed to not be for sale, Higuain has supposedly become available over the past few weeks following Juventus' acquisition of Portuguese superstar Cristiano Ronaldo. 
The move could benefit Chelsea as it looks to acquire a consistent, goal-scoring striker. The Blues received little from Alvaro Morata last season, signing Olivier Giroud over the winter in an attempt to take some pressure off talismanic wingers Eden Hazard and Willian. Both Chelsea stars could be leaving this summer as Hazard has been linked to Real Madrid while Barcelona saw a third bid for Willian rejected by the London club. 
Chelsea has had mixed luck with strikers ever since the departure of Didier Drogba. Diego Costa looked to be the real deal before falling out of favor with Conte, which prompted a move back to Spanish side Atletico Madrid. The club notably had failed experiments with the likes of Fernando Torres, Loic Remy and Radamel Falcao in recent years while also selling the likes of Romelu Lukaku, who recently starred for Belgium at the 2018 World Cup. 
It's not going to be easy for Chelsea though, which is why Sarri is in such a rush to poach Higuain off the market. 
According to the Evening Standard, Italian side AC Milan is ready to swoop in and snag the Argentinian from Chelsea as they have been in contact with Higuain's brother and agent, Nicolas.