Is Insecure on Netflix? The HBO series, created by Issa Rae, has run for two seasons so far, with a third season expected Summer 2018. Insecure follows Issa (Issa Rae), her ex-boyfriend Lawrence (Jay Ellis), her best friend Molly (Yvonne Orji), and their group of friends as they navigate love and friendships in Los Angeles. With Insecure, Rae has created a very funny, very raw look at adulthood — one that asks some very pertinent, very thought provoking questions. What does racism look like when it's the oppressed versus the oppressed? What does fetishism look like when you're black and thereby exotic? And how in the hell is a black woman supposed to break into the boy's club in corporate America?
If you're wondering how the series answers these questions — or if you want to know what the deal is with Due North — look no further. We're asking and answering one crucial question: Is Insecure on Netflix?
Is Insecure on Netflix?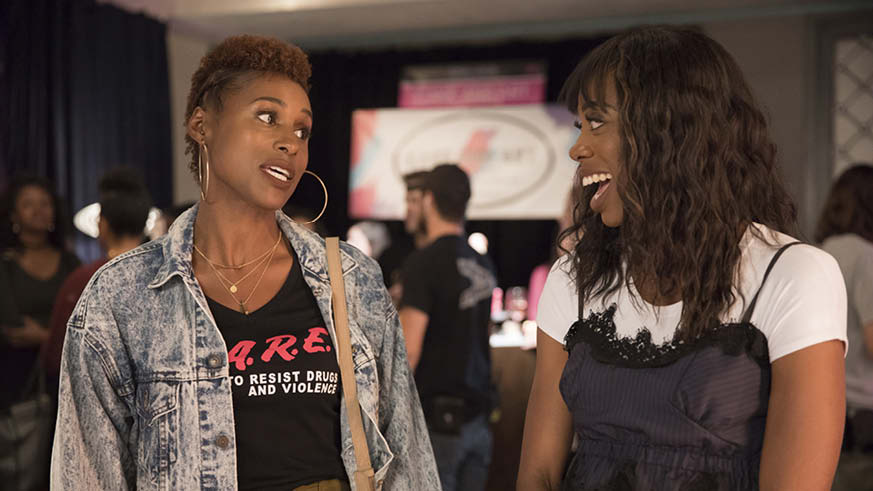 If you haven't guessed by now, let me be the one that breaks the bad news: Insecure is not available to stream on Netflix. Like many other HBO series before it, we wouldn't bet on it ever showing up on the streaming service.
Watch Insecure Online
There are other ways to watch Insecure online, of course. The series is available to stream on HBO and on the HBOGo and HBONow apps.
You can also watch the first and second seasons of Insecure online with an Amazon Prime account, as long as you have the HBO on Amazon subscription. Otherwise, each HD episode will cost you $2.99. Each full season is priced at $19.99.
Got Hulu? You can watch Insecure online on the streaming app — but again, only if you have a subscription through Hulu to HBO. Tricky, isn't it?