On the heels of winning the 2018 FIFA World Cup with France, midfielder Paul Pogba is facing the possibility of leaving Manchester United. That isn't necessarily a bad thing, if you ask him.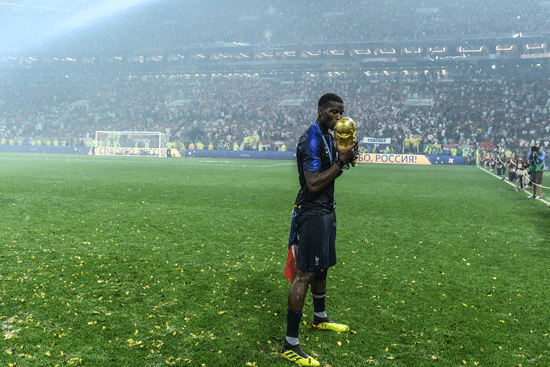 According to the Guardian, Pogba's agent Mino Raiola has told Barcelona that the midfielder is available and that "he doesn't want another joyless season in the Premier League."
Pogba has spent the past two seasons at United, the club that originally sold him to Juventus in 2012. It hasn't been too happy of a return as he's constantly drawn the ire of manager Jose Mourinho. 
Out of 38 Premier League matches last season, Pogba appeared in just 27. The two had a reported falling out after Pogba cut in on Mourinho's on-air interview to congratulate him after a March victory over Liverpool.
But Pogba earned the admiration of his manager after his performance at the World Cup where he looked disciplined in the midfield, something that has not been the case during his time at Manchester United.  Mourinho admitted that Pogba handled his role at the world's largest sporting event with "great maturity" (h/t Manchester Evening News).
The 25-year-old also netted France's third goal of the World Cup Final, a 4-2 victory over Croatia which delivered Les Bleus its second-ever title: 
Pogba puts France up 3-1! pic.twitter.com/GGbqabnvmo

— FOX Soccer (@FOXSoccer) July 15, 2018
Pogba is expected to be worth quite a lot should he move from Manchester this summer, but it could be worth it for Barcelona. 
The Catalonians are moving forward without Andres Iniesta and Paulinho and are in an arms race with Real Madrid as it looks for a replacement for Cristiano Ronaldo, who signed with Juventus last week. 
While Barcelona has won three of the last four La Liga titles, it has had to watch its fiercest rivals in Madrid win three-straight Champions League crowns. The club has also been linked to Chelsea winger and Brazilian star Willian.