With the summer transfer window starting to diminish, Real Madrid still has plenty of work to do if it wants to win a fourth-consecutive Champions League title. While the Spanish side continues to search for a replacement for Cristiano Ronaldo, who moved to Juventus earlier this month, Los Blancos are also looking for an upgrade at goalkeeper.
Chelsea keeper and Belgium international Thibaut Courtois has long been in Real Madrid's crosshairs this summer, the 26-year-old becoming the most realistic target Real Madrid could get from the London club. Madrid had formerly been interested in the likes of wingers Eden Hazard and Willian, but Chelsea was not willing to sell either star. 
Courtois though has made it known that he wants to get out of Stamford Bridge this summer and is attempting to make matters into his own hands. 
According to the Daily Telegraph, he has simply gone missing.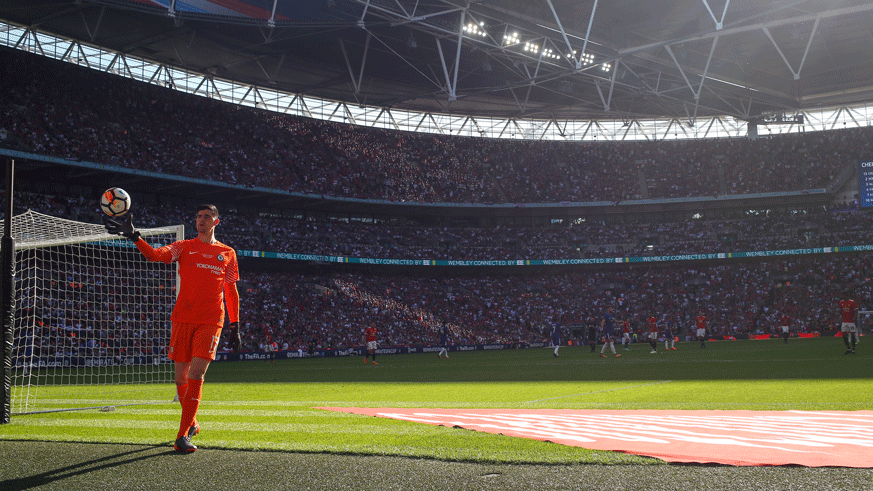 He was supposed to be in attendance at Wembley Stadium for the FA Community Shield against Manchester City on Sunday, a match Chelsea would lose 2-0, but was not there. He did not report to training on Monday, either. 
It looks as though the introduction of a new manager in Maurizio Sarri has not done enough to coax Courtois into wanting to stay as the Belgian wishes to return to Madrid. 
Why would Thibaut Courtois want to go to Real Madrid?
He spent time on loan at Atletico Madrid from 2011-2014 and wants to head back to Spain for family reasons, per his agent Christophe Henrotay. 
His departure would leave Chelsea in a difficult spot seeing as it would be lacking a premier goalkeeper. 
At the moment, Willy Caballero would be the No. 1 while former England international Rob Green would back him up. Chelsea was in on Brazilian keeper Alisson this summer, but the former Roma man opted to sign with Liverpool in July. 
Per the Telegraph, Real Madrid has put in a $45.2 million bid for Courtois and is waiting for Chelsea's answer. 
Should Chelsea not be able to acquire a legitimate No. 1 option in goal, it could turn down Madrid's offer and keep Courtois at Stamford Bridge for at least another season.