We warned you when we gathered everything we knew about The Walking Dead season 8 episode 9: It's looking more and more like the end for Maggie on The Walking Dead. But not because the character's weak.
Although nothing seems set in stone just yet, it looks like losing Maggie on The Walking Dead might be unavoidable — because of Lauren Cohan's contract.
Cohen, who brings life to Maggie on The Walking Dead, had yet to sign her contract for season nine when we pulled together the previously mentioned guide. Though Andrew Lincoln (Rick) and Norman Reedus (Daryl) has already inked theirs, assuring their characters' safety at least through the first episode of next season, Cohan had some issues with hers. The word was that she was pushing for a raise in order to make a figure closer to that of her male counterparts, but the people behind the hit AMC show hadn't given in.
Exec comments on future for Maggie on The Walking Dead
News of the contract negotiation snag broke a couple weeks ago, but this is the first time anyone's speaking out about it. After Cohan rejected AMC's counter offer (a modest bump instead of the raise she requested), she even made herself available for the upcoming pilot season. Unsurprisingly, she got some offers outside AMC's post-apocalyptic world.
A week later, fans of Maggie on The Walking Dead all let out a sigh of relief when TVLine reported that Cohan was again in talks with AMC to extend her contract through season nine. But maybe we all let out that breath a little too soon.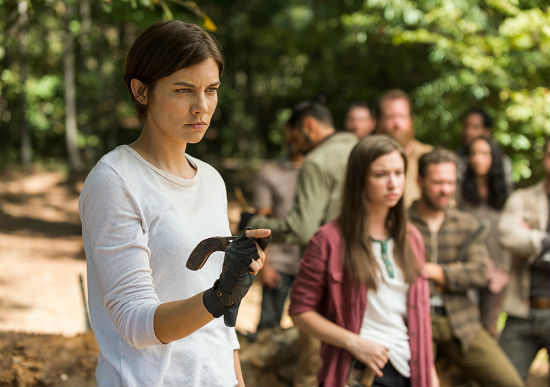 Scott Gimple, previously showrunner for The Walking Dead who is now the Chief Content Officer of the entire The Walking Dead universe, said he's "incredibly hopeful" about the talks, but it's clear nothing is guaranteed. "These things do happen in TV," he told TVLine. "But we're talking. And Lauren is an actor who has such intuition and such power. So yeah, hopefully, it all works out."
Hardly reassuring words for fans of Maggie on The Walking Dead.
Odds of survival for Maggie on The Walking Dead don't seem great considering, as Uproxx pointed out, the network has a history of taking a more aggressive stance during lawsuits and negotiations. After all, even The Walking Dead creator Robert Kirkman has moved from AMC to a two-year contract with Amazon, which will see him and his Skybound Entertainment company creating content exclusively for Amazon Prime Video.
We're hoping against hope that if Cohan does choose to leave AMC that we get a gentle fade out of Maggie on The Walking Dead — instead of adding her name to the long list of who dies in The Walking Dead.