Being royalty has its perks. Kate Middleton is married to a handsome prince, has two adorable children and has become a fashion icon. While hubby Prince William has a personal "no selfie" rule, Middleton is often seen shaking hands and chatting with dignitaries and commoners alike, but there is one thing she is not permitted to do —give an autograph.
The royal family is forbidden from signing autographs for fans because of the risk their signatures could be forged, the Express reported.
Prince Charles reportedly responds to autograph requests with: "Sorry, they don't allow me to do that," but he broke protocol in 2010 when he signed "Charles 2010" for a flood victim.
The Duchess does wear a signature around her neck sometimes. She reportedly owns a Merci Maman necklace with the words "George Alexander Louis" —her first born's name —inscribed on a gold-plated disc. The necklace also features a charm engraved with a "W" for William and a charm in the shape of a little boy.
Sister Pippa gave Middleton the necklace in 2013 to commemorate the birth of Prince George, the Mirror reported.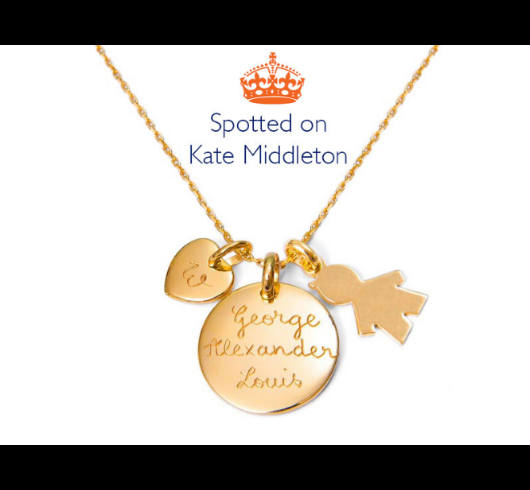 Princess Diana wore a necklace with "William" engraved on the front. It was a gift from Prince Charles.
"Upon the birth of Prince William in 1982, Prince Charles gave Diana the gift of a golf pendant engraved with their new son's name, which she always wore close to her heart," Merci Maman explained in a blog post.
"In 2013, Pippa Middleton continued this family tradition by giving her sister Kate, The Duchess of Cambridge, our Personalised Duchess Necklace to celebrate the birth of Prince George."
Middleton often adds a touch of "the people's princess," another non-royal who married into the family and was beloved by many.
In July, Middleton wore Princess Diana's favorite tiara —the Cambridge Lover's Knot — to a banquet at Buckingham Palace.