Amidst Antoni Conte's exit as manager and the subsequent introduction of former Napoli boss Maurizio Sarri to take his place, Chelsea Football Club are facing the very real possibility of a sizable overhaul to its roster, including the possible exits of star winger Eden Hazard and goalkeeper Thibaut Courtois.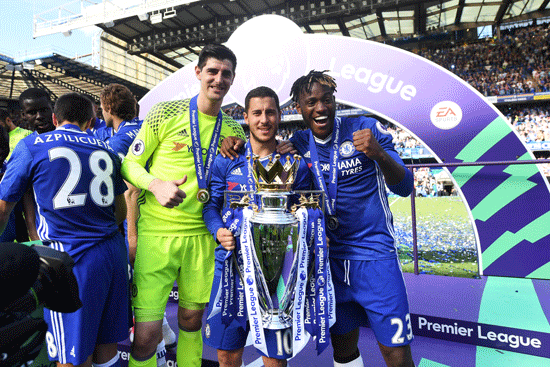 Chelsea finished fifth in the Premier League last year, missing out on Champions League soccer in 2018-19 while winning the FA Cup. It wasn't nearly good enough for Conte to keep his post in West London, who had his fair share of disagreements with players including Willian, who is rumored to be moving to Barcelona this summer. 
The change at manager though could possibly delay things a bit at Stamford Bridge when it comes to the future of some of the club's largest players. 
Both Hazard and Courtois were linked to moves with Real Madrid this summer, the former being eyed as a possible replacement for Cristiano Ronaldo, who joined Italian giants Juventus last week. 
It sounds like only one of them might be moving, though. 
Sky Sports La Liga expert Guillem Balague said that Chelsea is unwilling to part with Hazard which has deterred Real Madrid from putting forth a bid. It's a direct contradiction of a report put forth by Belgian newspaper Het Laatste Nieuws that claimed Madrid submitted a $196.8 million bid for Hazard and a $63.6 million offer for Courtois. 
Hazard opened the door for speculation on his future to swing wide open after the World Cup too when he said that "it might be time to discover something different."
The winger has been the face of Chelsea for much of his six-year stint with the club as he has developed into one of the more dangerous attackers in the world. A solid performance for third-place Belgium only confirmed that notion even more, which would make his departure a difficult one for Chelsea to try and replace.
Balague suggested that Courtois, who has one year left on his contract, will be free to head to Spain in the coming weeks. Courtois and his current club attempted to work out a contract extension, but talks broke down in May. 
Brazilian goalkeeper Alisson, currently with Italian side Roma, is reportedly on Chelsea's radar. However, the Blues could lose out to fellow Premier League side Liverpool who submitted an $81.5 million bid earlier on Tuesday.