Whatever you think is inside Candytopia, you're probably nowhere close. From the first moment you walk inside the Garment District warehouse where a dragon made of candy guards a curtained entryway lined with madly tilting houses, you definitely know you're not in Midtown anymore.
The dizzying sugar rush of Candytopia sprawls over 12 huge rooms with several photo ops each. Some are straight out of the pop-up's sold-out run in Santa Monica earlier this year, while others are crafted with a wink to New York — don't miss the portrait of Bronx native Cardi B in the crystal throne room (of course).
Candytopia New York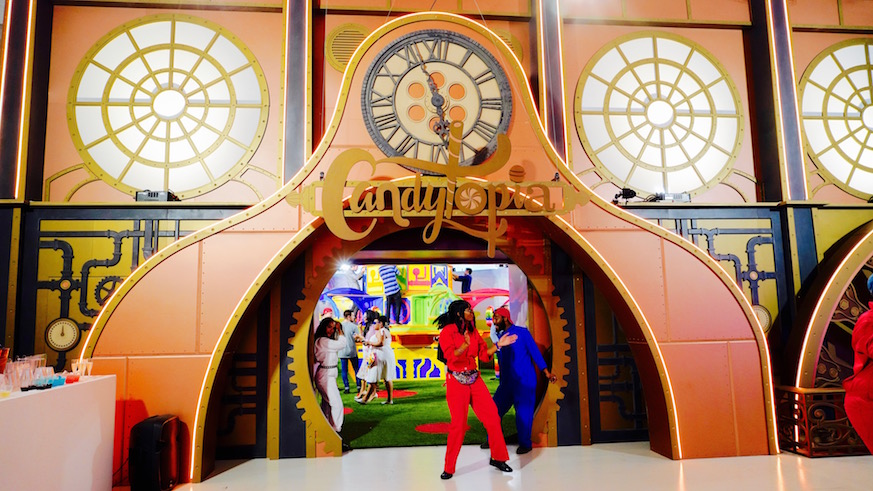 Like Willy Wonka's Chocolate Factory, Candytopia is equal parts beautiful and strange. To enter, you walk past a giant pink dragon (made of candy) into a village of madly tilting houses, then into the weird "taxidermy" hall of candy animals where a Mad Hatter-type ushers you onward. The very next room is a straight-out-of the board game candy garden presided over by a too-realistic wax figure of Katy Perry (courtesy of Madame Tussauds).
There's a tunnel of changing rainbow lights, an entire underwater world of sharks and lobsters and fish made of candy. Instagram will be glutted with people lining up to have a pig in a rainbow skirt "fart" confetti on them. And you'll never see fully grown adults happier than when doing a cannonball from a diving board into a giant marshmallow pit. To keep up your energy, there is a special candy or chocolate treat in every room.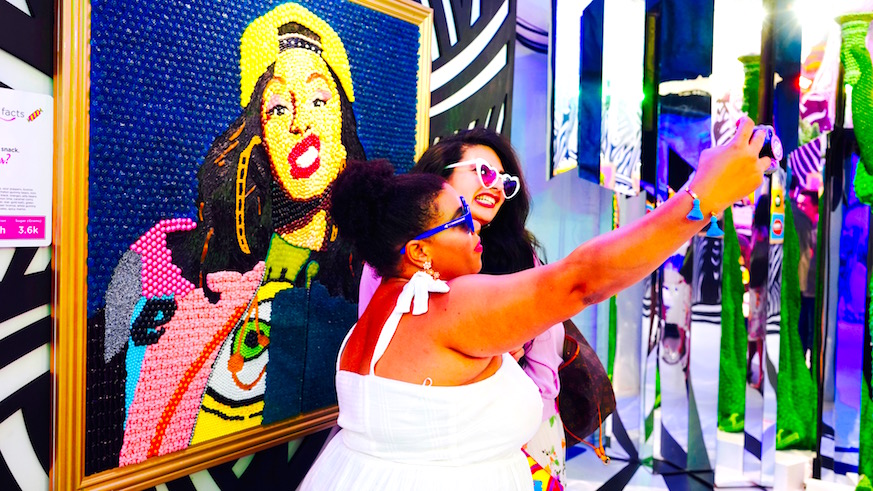 Before you enter, you're asked to register your email address to get a Sugar Rush QR code to use at photo stations throughout the exhibit. Feel free to ignore this: The photo stations weren't at all obvious during the press preview, and even staff only pointed them out twice but nobody seemed to know where to look or when the photo was actually being taken. Besides, as selfie experts you either have a trained entourage or know your best side anyway.
With an open-ended run starting Aug. 15 at Penn Plaza (145 W. 32nd St.), you've got time to explore the odd but sweet world of Candytopia. Two tips though: Bad signage meant this reporter spent 15 minutes looking for the entrance before realizing you have to walk halfway down 32nd Street to find it. And when the Mad Hatter ushers you on from the first room, don't be the last one into the tunnel of two inflated fabric pillows, because it gets difficult to push your way through.
Candytopia tickets must be purchased in advance and are $34 for adults, $26 for kids ages 4-12, and free for kids 3 and under — could you even put a price on becoming Instagram famous before you can even pronounce Instagram?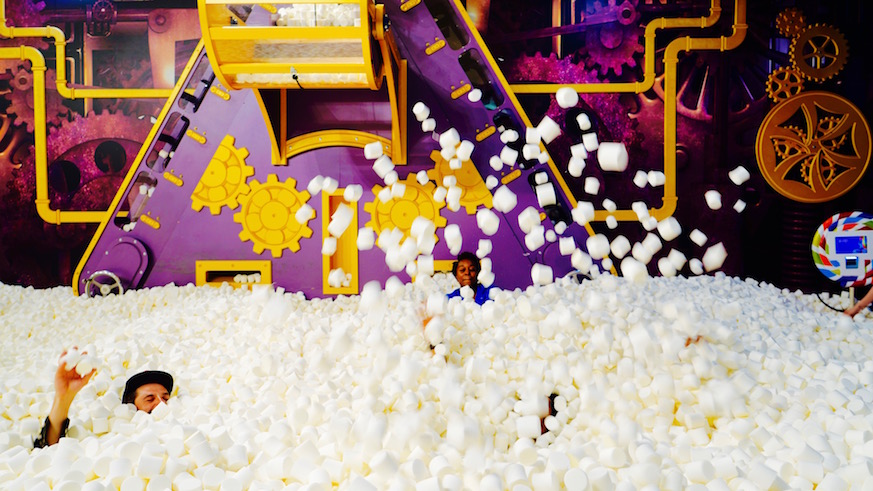 Photo-centric pop-ups are definitely the trend of Summer 2018 in New York. The arrival of Candytopia will complete New York's dessert gallery trifecta alongside the Museum of Ice Cream's new Pint Shop and Jacques Torres' Chocolate Museum.
The exhibits aren't limited to food, either. There was Brooklyn's sleep-themed Dream Machine, the bucket list-worthy Rosé Mansion that's half educational romp and half photo ops is open through Oct. 7, and even Deadpool got into the act with the Be Your Best Selfie Museum to promote the release of its sequel.
Still to come is another California sensation Color Factory in August and the Museum of Pizza in October.